Detroit, MI - Livernois Yard Coaling Tower
Livernois Yard was known as Junction Yard from the 1870's. Junction Yard grew and grew and various pieces of it gained their own names over time with Livernois Yard being parallel to Livernois Avenue, and what was later known as Junction Yard being farther west between the hump at Central Avenue and Wyoming Avenues.
Livernois Yard was home for Michigan Central's terminal locomotive facilities and it had two very large roundhouses, coaling facilities and water facilities - along with other things like stock yards, car shops and later intermodal facilities.
The coaling tower at Livernois Yard was one the the larger facilities built in the United States.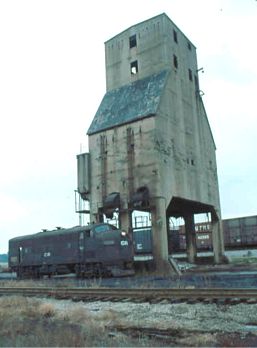 We have also included a very old photo of a wooden elevated coal bunker at Livernois Yard which likely preceded the concrete version.
Photo info/credits:
Top - Now abandoned. Taken during the Penn Central era in 1977. [Charlie Whipp]
Bottom - Circa 1900. This wooden coal bunker was loaded by pushing coal cars up the steep embankment and dropping their contents into the wood bins. [Library of Congress]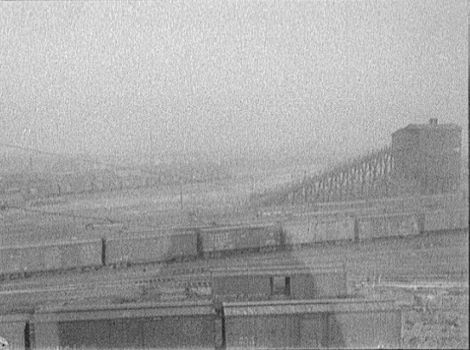 Bibliography
The following sources are utilized in this website. [SOURCE-YEAR-MMDD-PG]:
[AAB| = All Aboard!, by Willis Dunbar, Eerdmans Publishing, Grand Rapids ©1969.
[AAN] = Alpena Argus newspaper.
[AARQJ] = American Association of Railroads Quiz Jr. pamphlet. © 1956
[AATHA] = Ann Arbor Railroad Technical and Historical Association newsletter "The Double A"
[AB] = Information provided at Michigan History Conference from Andrew Bailey, Port Huron, MI