Clarendon, MI - Coaling Tower

The Michigan Central Railroad's Air Line Branch was unusual in that it hosted a large coaling facility. These were usually reserved for main line operations but the MC used the Air Line between Jackson and Niles as the eastbound freight main (paired with westbound freights on the Main Line between the same two towns).
Clarendon was roughly halfway between Chicago and Detroit, using this branch as part of a longer thoroughfare that included the main line. As you will note from the map, Clarendon also had water facilities which was unusual for large fueling towers in out-of-the-way locations. This coaling tower still exists although it is on private property and very difficult to see from adjacent roads. The Air Line branch no longer exists today.
Photo info/credit:
Top - This map is drawn from blue prints held at the State of Michigan Archives. It shows the location of the tower next to the branch line, as well as a cinder pit for dropping ashes, and sand house (for loading traction sand into the locomotive), a shop, phone booth (to call the dispatcher), and even the water closet (or privy). Nearby was the St. Joseph River which was used as a source of water. [Dale Berry drawing]
Bottom - This is a rare view coming upon the abandoned facility by an Air Line engineer in his locomotive, taken in 1978 in the Penn Central era. [Ted Zerbe]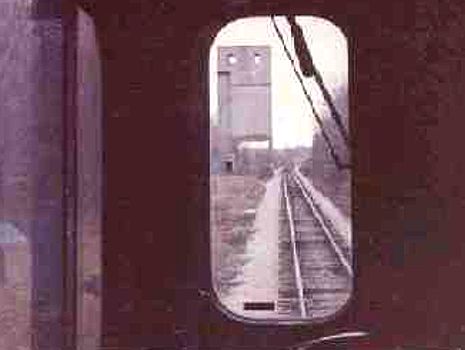 Bibliography
The following sources are utilized in this website. [SOURCE-YEAR-MMDD-PG]:
[AAB| = All Aboard!, by Willis Dunbar, Eerdmans Publishing, Grand Rapids ©1969.
[AAN] = Alpena Argus newspaper.
[AARQJ] = American Association of Railroads Quiz Jr. pamphlet. © 1956
[AATHA] = Ann Arbor Railroad Technical and Historical Association newsletter "The Double A"
[AB] = Information provided at Michigan History Conference from Andrew Bailey, Port Huron, MI