Interlocking: North Kearsley, MI (Flint)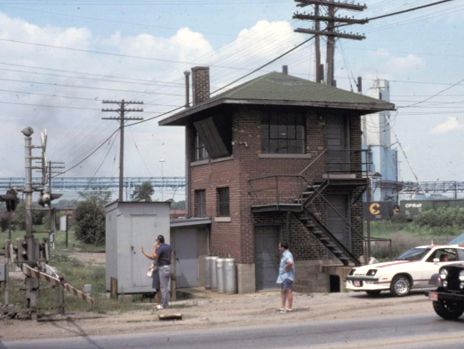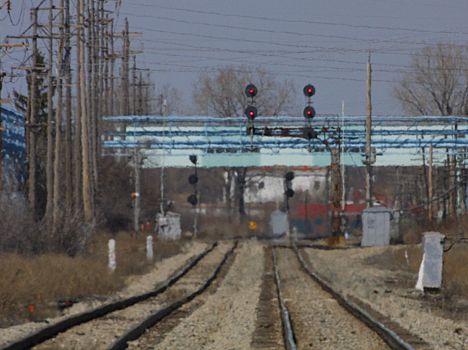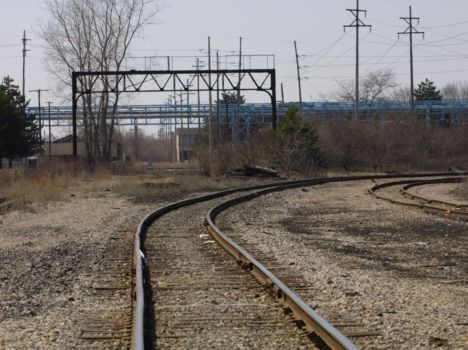 North Kearsley was an interlocking which was established about 1923 when the PM built its Flint Belt Line across the original GTW main line to downtown Flint. A tower originally controlled this crossing. When the GTW removed the line through downtown the interlocking was removed, however a junction with the PM remains for interchange with the CSX and for CSX trackage rights to Port Huron and Sarnia. The MPSC approved the interlocking in June, 1923. [MSPC-1923]
Photo info: Top, a photo of Kearsley Tower (at North Kearsley) near Flint in 1977. [Charles Geletzke Jr.]; 2nd photo, looking north on the CSX towards North Kearsley in 2003. The tower has been removed. Signals are still in place as if the interlocking was still in place; 3rd photo, looking west on the former GTW line which went to downtown Flint (now removed). Note the old signal bridge which controlled the crossing of the former PM Flint Belt Line. The track north continues to the northbound PM, which the CN still uses from McGrew Yard to Port Huron via CN trackage rights. [Dale Berry]
---
Time Line
1922. The PM is planning installation of two interlocking plants at Flint on the new belt line of the PM which is being built around the city. One of these plants will be a 48-lever machine with 12 spare levers and 36 working levers. This plant will handle the functions at the crossing of the Flint belt line and the GT passenger line and another crossing at the Grand Trunk freight line, the two crossings being located 3,450 feet apart. The other plant at the crossing of the Flint belt line and the Detroit United Railway will use a 16-lever frame with 8 spare levers and 8 working levers. Both of these machines will be the all electric type furnished by the Federal Signal Company, Albany, NY and an Exide type battery furnished by the Electric Storage Battery Co, charged by the trickle charge arrangement, will be used at both plants. [RSG-1922-09]
1923. After inspection, the MPSC approves the use of this interlocking. [MPSc-1923]
---
From Doug Hefty: When I worked at Kearsley tower back in 1970-71, we referred to the Flint Sub as "the diverted line." We controlled both the Flint Sub and "Old Main" crossings with the C&O from the tower. The C&O also had its own "Old Main" through downtown Flint, with the "main" passing Kearsley tower often referred to as "the Flint Belt.".
---
According to an article in Railway Signaling November, 1923 pages 447-449, this tower was created about 1923 when the Pere Marquette railroad constructed their north-south "Belt Line" on the east side of Flint. The Belt Line began at Atwood Junction (2 miles south of Flint) and reconnected with the old main line at McGrew Yard (about 4 miles north of Flint).
This interlocking had a single tower which controlled both the North Kearsley and South Kearsley interlocked crossings. They were 3,450 feet apart.
This tower (pictured in the top photo) controlled 17 derails, 1 switch and 20 signals. At the time of construction in 1923, the GTW main line (original line to downtown) had three east-west tracks. The north-south Flint Belt had two tracks.
The Grand Trunk belt at South Kearsley (the newer GTW line) was double track with the PM bering single track. The interlocking machine was a 48-lever, Federal Signal Company, Type 341, d.c. electric interlocking machine with d.c. indication. The machine was provided with 8 spare levers for future extensions.
This tower had three floors. The basement had an extension at one end for coal storage. The main basement consists of two rooms separated by a concrete partition. One room contains the hot water heater and the other room the motor-generator set and storage battery.
The first floor contained a relay rack and work bench as well as a storage cupboard over the basement stairway. The second floor, or operating room, was well lighted, as it is fitted on all sides with steel window sash. The second floor is reached by an outside steel stairway.
The power plant consists of 60 cells of Electric Storage Battery Company's 120 a.h. "Ironclad" Type M-V-S-9 storage battery arranged in five cells to each tray. The batteries are trickle charged by a General Electric Co. motor generator set. The cable controlling the signals are installed on poles with junction boxes at the signals. All signals are electric lighted, the home and dwarf signals being controlled by transposition switches on the tower switchboard and the distant signals are lighted by low-voltage approach lighting scheme. Each plant has an illuminated spotlight track diagram for all track sections.
The nearby tower at the PM Belt and DUR was built about the same time, both by Federal Signal Co.
There was no tower at South Kearsley ( PM Flint Belt crossing the GTW's Belt) because the crossing was controlled by this tower.
Source: [RSG] November, 1923 pages 447-449.