Station: Flint, MI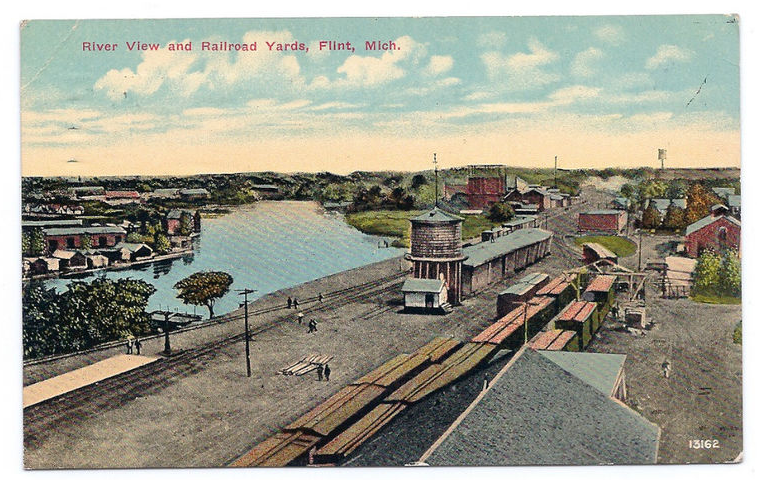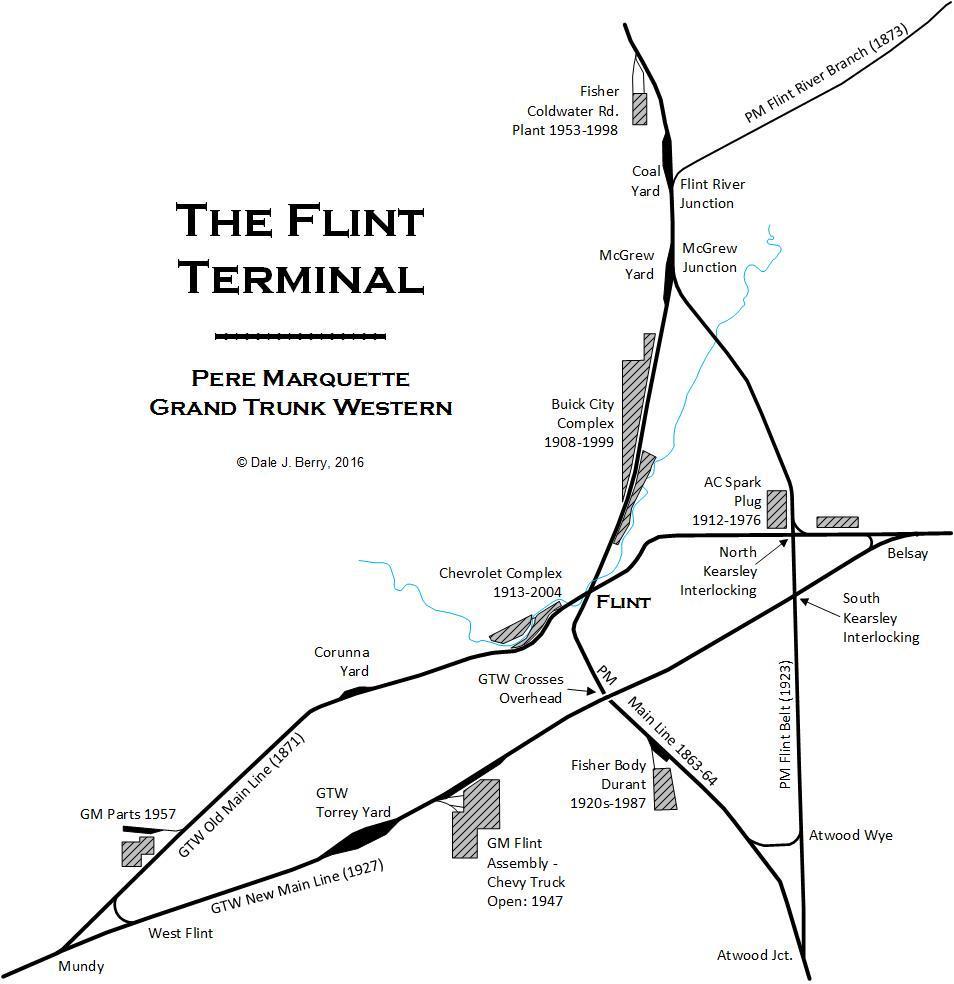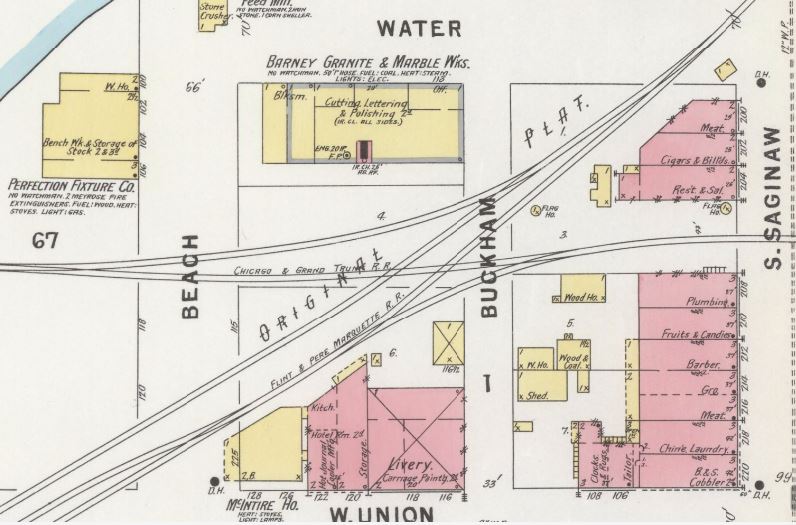 Flint was founded in 1819 as a trading post on the Flint River. The town was first platted in 1830 and had several names in its early days. Flint became the permanent name in 1836 and the city was incorporated in 1855. [MPN]
There are two rail lines which came to Flint. The first was the Flint & Pere Marquette which was built from downtown Flint north to Saginaw in 1859. The line was extended south to Holly in 1864 and later to the Detroit area. The east-west Grand Trunk railroad came to town in 1871 from Port Huron and was finished west of town towards Durand in 1876.
Photo Info: Top, a postcard view of downtown Flint around the turn of the centry. 2nd photo, a map of the Flint Terminal and its history [Dale Berry]; 3rd photo, a Sanborn map from 1898 documents the location of the crossing of the E-W Grand Trunk Western and the N-S Flint & Pere Marquette. [LOC].
The Grand Trunk Western built a new main line south of downtown to avoid the congestion and serve new auto plants there.
The PM built their own belt line to the east of downtown in 1921 (which became their new main line sometime in the 1950's). The PM continued to use their old main line for passenger trains until they were taken off in the 1940's. [CW]
The Pere Marquette (later C&O/ CSX) had exclusive rights to serve the large Buick City complex, which was located on their original main line south of McGrew Yard. Buick City was closed in the 1990's and has been demolished. As of the 2010's, the south portion of McGrew Yad is mostly used for car storage, and the north portion (north of Pearson Road) is used for interchange with the Lake State railway which operates the former CSX track north of Mount Morris.
In 2019, the Lake State railway leased the CSX line from Novi north to McGrew Yard. As of 2019, the CSX continues to run a roundtrip train from Flint to Port Huron and Sarnia using trackage rights from Belsay to Port Huron.
---
Time Line
F&PM Lines | GTW Lines
1836 - Flint is settled
1859 - Flint and Pere Marquette builds north from downtown to Saginaw
1864 - Flint and Pere Marquette builds south from downtown to Holly and later to Monroe/Toledo
1871 - Grand Trunk Western is completed from Port Huron to Flint
1876 - GTW builds west to Durand
1893. P. Smith has made arrangements with the F& PM to haul the logs which escaped from the boom in the Flint River in this city several weeks ago back to Flint from Saginaw by rail. Fully two-thirds of the million and a half feet of logs which got away from the boom have reached Saginaw and it is expected that a large proportion of the remaining one-third will be recovered and floated down the river to that city. [DFP-1893-0423]
Early 1900's - GTW builds a new main line from West Flint to Belsay, bypassing downtown.
1921 - Pere Marquette builds their belt line from Atwood Junction to McGrew Yard, bypassing downtown
2015 (approximate) - CSX leases their main line north of McGrew Yard to the Lake State railway
2019 - CSX leases their line from McGrew Yard south to Novi to the Lake State railway
---
Industry
Durant-Dort Carriage Factory - 316 West Water Street, Flint. First built carriages, then automobile bodies.Until 1895 called the Flint Road Car Company. In 1900, this was the largest horse-drawn vehicle company in the United States. Carriages were made until 1917 when the factory was converted to building automobiles for the Dort Motor Company. [Wiki] This facility was located on the Grand Trunk Western main line in downtown Flint.
Buick. West Kearsley Street. Closed in 1908 when the Hamilton Avenue plant closed.
Buick City. Hamilton Avenue. Opened in 1908. Largest GM complex in the world. Serviced by Pere Marquette. Closed in June, 1999. Demolished by 2003. (Adjacent Buick transmission closed in December, 2010).
AC Spark Plug. Industrial Avenue Plant. Opened in 1912. Closed about 1976 and demolished.
Chevrolet Motor Division. Plant opened on Chevrolet Avenue about 1913, including engine-assembly and engine-parts plants, pressed metal division and the pre-WW II Chevrolet Assembly (Plant 2) and Fisher Body #2 plants. Became AC Spark Plug in 1987. Most buildings discontinued and torn down in the 1980's and 1990's. This group of buildings was called "Chevy in the Hole". [Wiki} Located on the Grand Trunk Western original mail line.
GM Flint Truck Assembly. Opened on Van Slyke Road in 1947 for car and truck assembly. Converted to truck only production in 1970. Now known as Flint Assembly. Still exists in 2016. Served by the CN ( GTW) main line east of US-23 expressway.
GM Flint Frame and Stamping Plant. Also known as Flint Metal Center and Flint Metal Fabrication Division. Opened on Bristol Road in 1954. Located on the GTW main line.
GM Flint V8 Engine Plant. Also known as Flint Engine South. On Van Slyke Road near Flint Truck Assembly.
GM Flint Plant #1. Built in 1920's on South Saginaw Street as Durant Motors headquarters and produced the "Flint" car here. GM bought this plant from Durant Motors before 1935. In 1984 this became BOC Flint Body Assembly. This plant built and shipped bodies to GM assembly operations in Pontiac. Plant closed in December, 1987. Most demolished in 1988. Served by the original main line of the Pere Marquette south of downtown.
GM Flint Plant #2. Opened on Van Slyke Road in 1947, the same site as the Chevrolet Assembly plant. It was dissolved in 1970. On the GTW main line.
Coldwater Road Plant. Opened in 1953 to manufacture body hardware. This plant was originally intended to build aircraft engines for Buick during the Korean War but never went into production. Turned over to Fisher Guide Division in 1984. Renamed Delphi Automotive Systems and then sold to Peregrine Inc. in 1996. They closed it around 1998 and it was demolished after this date. This plant is north of McGrew Yard along the Pere Marquette/C&O Saginaw branch.