Location: Flint Terminal, MI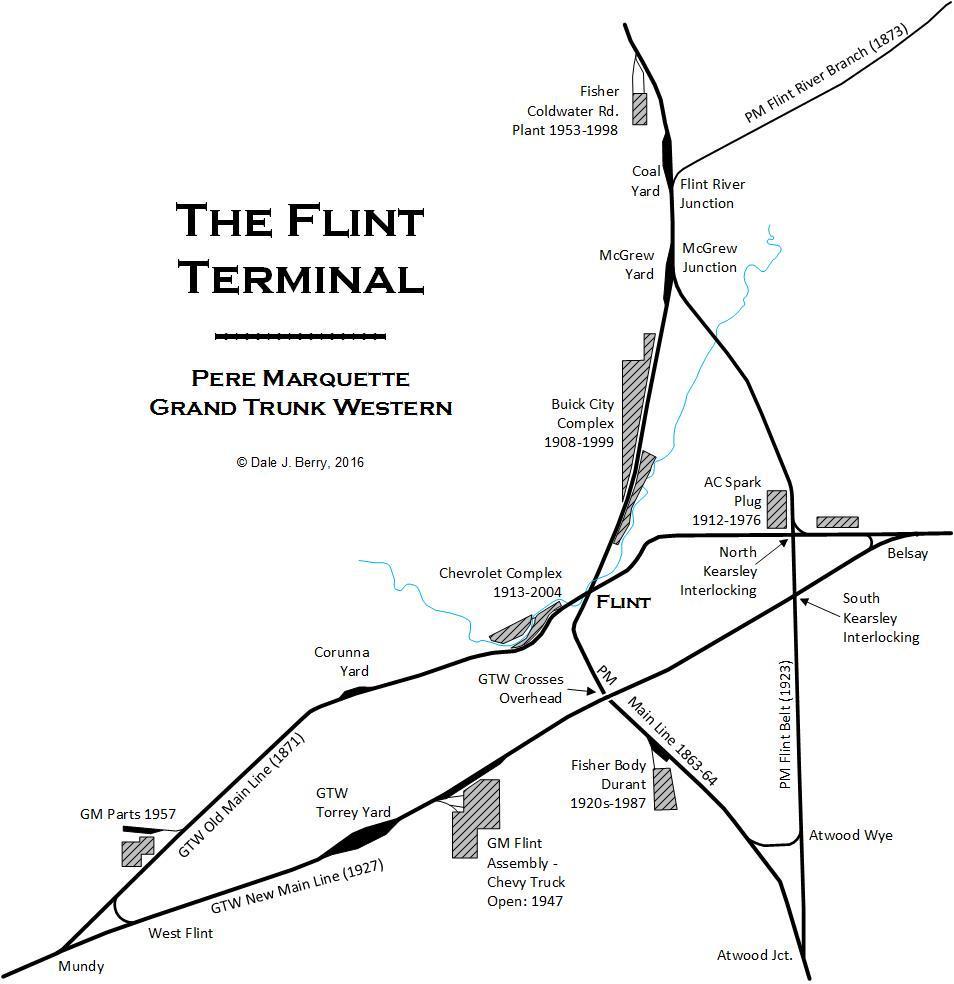 The Flint & Pere Marquette railway was the first to enter the Flint area from the north in 1863, then proceeding south the following year.
The F& PM main line followed the river to the downtown area.
The Grand Trunk Western built through Flint on an east-west axis in 1871, crossing the F& PM downtown. Both roads had depots near the crossing.
Flint became a center for making carriages and wagons. After the turn of the century, this expertise converted well to the building of auto bodies and automobiles and ultimately led to the formation of General Motors which established manufacturing operations here.
From 1863 to 1923, railroad opertions were concentracted along this same E-W GTW line and the N-S Pere Marquette route. The F& PM built a branch line from Flint River Junction to Fostoria in 1873, likely for the transportation of forest products into the city.
---
Time Line
1910. The PM installed electrically operated block signals at Flint Yard. [PMAR-1910]
The original assembly plants of Buick began to grow along the PM on the north side of downtown. Chevrolet began operations around 1913 along the river valley and the GTW. The AC Spark Plug plant was constructed on the GTW east of downtown, taking over existing buildings about 1912. These facilities were supported by PM's McGrew Yard and GTW's Corunna and Belsay Yards. Fisher Body took over a Durant plant south of downtown in the 1920's along the PM.
1923. The Pere Marquette changed things up by building the Flint Belt Line, a north-south cutoff through less populated areas on the east side of Flint. Leaving the main line at Atwood Junction (north of Grand Blanc), it crossed the GTW main line at North Kearsley and an interlocking tower was built to control the crossing. This gave the PM a double track faster route north and south (when compared to the meandering old single track main line through downtown). Around 1970, the original PM main line was truncated north and south of the river and the Belt became PM's main line through Flint.
1927. The Grand Trunk Western followed suit, relocating its own E-W main line south of town, from Mundy (near West Flint) to Belsay on the east side and downgrading the old main line to yard limit status. The GTW built a bridge over the old PM main line, avoiding a crossing, but crossed the PM Flint Belt at grade at South Kearsley. An interlocking tower was established here to control the crossing. Torrey Yard was built along the GTW's new main line (north of Flint's Bishop Airport). It would serve the new truck plant in 1947, now known as the Flint truck plant. Parts of the original main line began to be removed around 1980.
Photo Info: Map, by Dale Berry from USGS, and [MRL]