Location: Bellevue, MI - Burt Portland Cement Company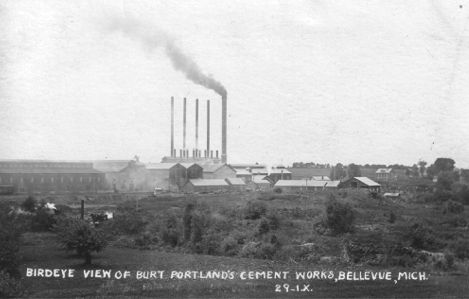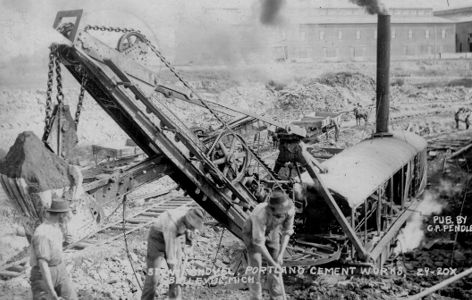 The Burt Portland Cement Company was located west of the city limits of Bellevue in Eaton County. It operated frm 1904 to 1928 and was owned by Wellington Burt and his son George Burt. Wellington Burt was one of the richest men in the world at this time.
The plant was never totally torn down and ruins exist today.
Photo Info: Two views of the Burt Portland Cement Company near Bellevue around 1909. 3rd photo, a steam shovel is used to load aggregate products in nearby railroad cars in 1912. [Mark Worrall collection]. 4th photo another view of a quarry shovel which runs on light-weight track which is moved around. This is a 1909 postcard view.
---
Time Line
1904. Cement plant opens.
1928. Cement plant closes.
Bibliography
The following sources are utilized in this website. [SOURCE-YEAR-MMDD-PG]:
[AAB| = All Aboard!, by Willis Dunbar, Eerdmans Publishing, Grand Rapids ©1969.
[AAN] = Alpena Argus newspaper.
[AARQJ] = American Association of Railroads Quiz Jr. pamphlet. © 1956
[AATHA] = Ann Arbor Railroad Technical and Historical Association newsletter "The Double A"
[AB] = Information provided at Michigan History Conference from Andrew Bailey, Port Huron, MI