Station: Fowler, MI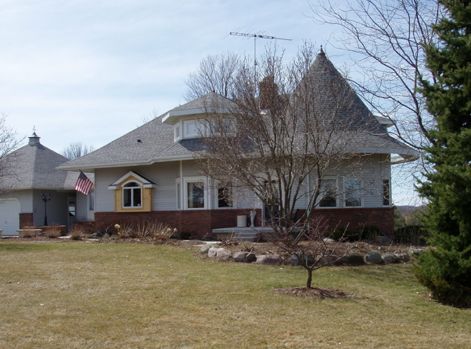 Fowler is a village in Clinton County, nine miles west of St. John. It was a station on the Grand Trunk Western branch to Grand Haven. The depot here was a "witch's hat" depot, one of three in Michigan (Saranac and South Lyon are the others - all GTW stations).
Photo Info: Top, the GT Fowler depot with two elevators in the background. [CMUL]. 2nd photo the Fowler depot around 1910 in a colorized postcard view. Bottom, the depot in modern times, used as a residence and moved to a new location.
---
Notes
This depot had a "witches hat" design.
---
Time Line
1917. The GTW had an agent here during the day shift. [TRT]
Bibliography
The following sources are utilized in this website. [SOURCE-YEAR-MMDD-PG]:
[AAB| = All Aboard!, by Willis Dunbar, Eerdmans Publishing, Grand Rapids ©1969.
[AAN] = Alpena Argus newspaper.
[AARQJ] = American Association of Railroads Quiz Jr. pamphlet. © 1956
[AATHA] = Ann Arbor Railroad Technical and Historical Association newsletter "The Double A"
[AB] = Information provided at Michigan History Conference from Andrew Bailey, Port Huron, MI