Station: Boyne City, MI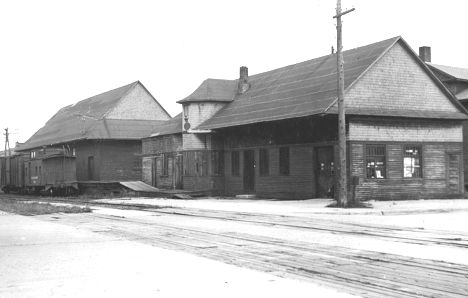 Boyne City, in Charlevoix County, was first settled in 1856 at the east edge of Lake Charlevoix. The town became a village in 1885 and a city in 1907. [MPN]
The town was home of the White Lumber company, which owned the Boyne City, Gaylord & Alpena railroad which brought forest products into the lumber company. The BCG&A eventually spanned the peninsula to a terminus in Alpena.
Photo info: The BCG&A depot at Boyne City, taken in 2003. The restored depot is now a restaurant. 2nd photo, the BCG&A offices next to the depot. [Both, Dale Berry] 3rd photo, a BCG&A passenger train at the Boyne City depot. 4th, the depot in 1835, during the depression and shortly after the BCG&A line abandonment east of Boyne Falls. [Charles Milliken photos, Doug Leffler Collection]. Bottom, a postcard view of the Boyne City depot in 1970, during the period when the Boyne City Railroad ran tourist trains using a locomotive and cars from England.
---
Notes
---
Time Line
1918. July. The W. H. White company's mill No. 1 built about four years ago and one of the most modern sawmills in the state, as destroyed by fire. The mill is valued at $300,000 and was a total loss. A strong wind blowing from the lake kept the flames out of the big lumber storage yard. The administration building, which houses the W. H. White company and the executive offices of the BOyne City, Gaylord & Alpena railroad, was threatened. [YEX]
1923. May. The peaceful quiet of the Boyne Falls hill district was disturbed yesterday afternoon by a wild train of 12 flat cars on the BCG&A railroad, that went through an open derailer and switch at North Elmira and shot down the 900-foot drop down the hill at something like 90 miles per hour. The road of the train was heard at a considerable distance as it took the 20 miles around sharp curves in a cloud of dust.
The wild journey came to an end in the lake at Boyne City, word having been wired ahead so that the string of cars was switched off into the water. [BCE-1912-0514]