Station: Marshall, MI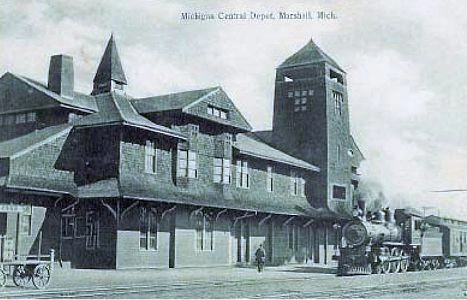 Marshall was settled in 1830 and became the county seat of Calhoun County. It became a village in 1836 and a city in 1859. [MPN] Marshall became a major division point on the MC's main line from Detroit to Chicago, including car shops and locomotive facilities. These operations were later moved to Jackson in the 1860's and Marshall was downgraded to lesser responsibilities at that point. When the Detroit, Toledo & Milwaukee railroad came through here in the 1870's, they established locomotive service facilities on the south side of town. The DT&M roundhouse was moved to Greenfield Village in the 1990's and fully restored.
---
Notes
Historian Don Meints notes that the second floor of the MC depot may have housed hotel rooms but this has not been verified.
Photo info: Top, the MC depot and passenger train at Marshall around the turn-of-the-century in a postcard view. Below, an early photo of the interurban station in Marshall. [Both, Alan Loftis Collection]
---
Time Line
1882. At an enthusiastic meeting tonight the remainder of the $70,000 bonus was subscribed to the syndicate toward the construction of the Toledo & Milwaukee railroad. [DFP-1882-0905]
1917. The MC had an operator her around the clock. They also had a dedicated freight agent here during the day. [TRT]
1920. On the Michigan Central, this is a passenger and freight agency. Interline tickets are issued. M. F. Ryan is the passenger agent. E. C. Sawdy is the freight agent. The telegraph call sign is "MH". [MCOAS]
---
Industries
Late in the 1890's, the Cincinnati Northern (later DT&M/ NYC) served the Page Brothers Buggy Company along their line in the south side of town. This was a 240' x 40' 3-story building with sidings from the CN.
The CN also served The Folding Bath Tub Company, a 4-building complex.