Interlocking: Hall Street Tower, Battle Creek, MI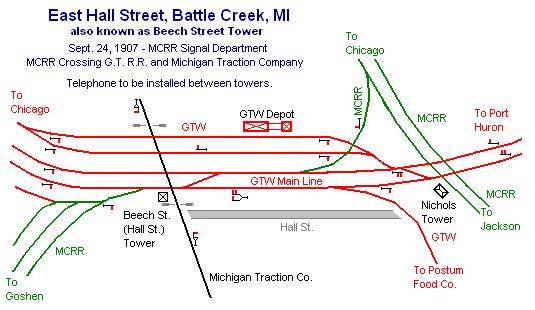 Hall Street interlocking tower, also known as Beech Street Tower, was located just west of the GTW passenger station. It controlled the crossing of the Michigan Traction Company interurban line with the GTW's main line and side tracks here. It was also close to the junction of the Michigan Central line south to Goshen, though it is unknown if the tower controlled this switch.
Photo/map info: A distant view of Hall Street Tower in Battle Creek, in 1933. This photo was taken during a tour of the British LMS Railway Royal Scot train at the GTW station. ]Charles Milliken, Doug Leffler Collection]
Time Line
1933. By 1933, Hall Street Tower likely was used to protect the Beech Street crossing at the west end of the GTW depot. The interlocking at the east end of the depot (at the NYC crossing) was Nichols Tower.