Location: Huron Portland Cement Plant, Alpena, MI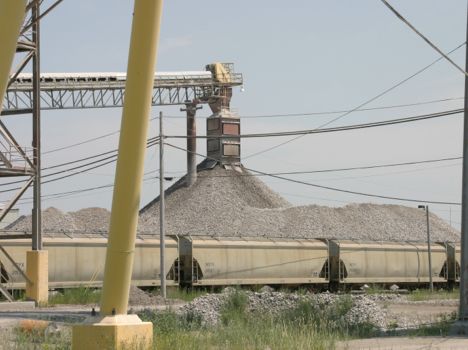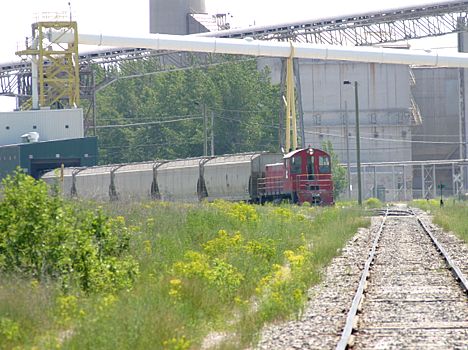 The Huron Portland Cement Plant was founded in Detroit in 1907 and chose this site for its plant because of the large limestone deposits here which were ideal for cement production. It was and still may be the largest cement plant in the world.
Most cement is transported out of the plant by ship. But over the years, the plant received limestone and other aggregates (such as gravel) by rail from a variety of locations throughout the area, including the Paxton quarry west of Alpena, and the Rockport and Stoneport quarries northeast of the plant, and a marl quarry south of Rockport which is now Middle Lake.
Today, the company brings aggregate from the nearby quarry to the plant by mega truck, but other materials such as fly ash are brought in by rail by the Lake State Railway (former D&M).
The plant has its own railroad switch engines for industrial use. In 2003, it was reported that about 20 fly ash cars were received each week.
Photo info: Top, an old postcard view of the plant quarry. Note that railroads were used to transport aggregate from the quarry to the plant. There appears to b an engine house in the quarry. Today, oversized trucks are used. 2nd image, a photo of the plant itself with rail cars containing fly ash in front. 3rd, Huron Portland Cement No. 8 at the Alpena Quarry in 1960 [Harold Frye], 4th, a LaFarge Center Cab diesel at Alpena in 2003 [Mark Andersen], and bottom, a photo of the plant switcher moving fly ash cars in 2003. [Dale Berry]
Notes
Because of the process of mining limestone and manufacturing cement in the plant, the plant locomotives here are usually covered in cement byproducts. They have a great deal of "patina" on them.
---
Time Line
1927. The cement plant railroad crossed the D&M quarry branch one half mile wst of Alpena Junction within plant limits. The two crossings were protected by swing gates. [ETT-1927]