Station: Alpena, MI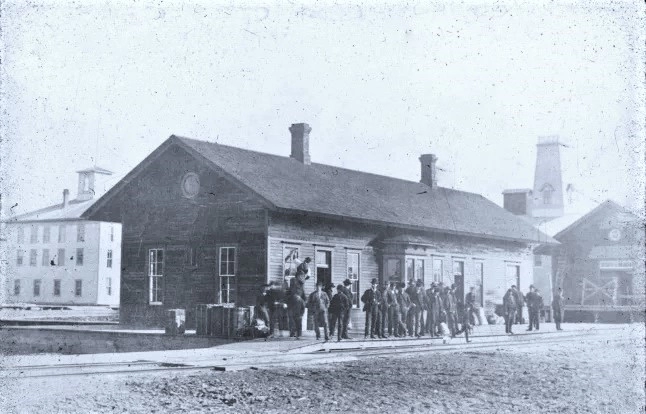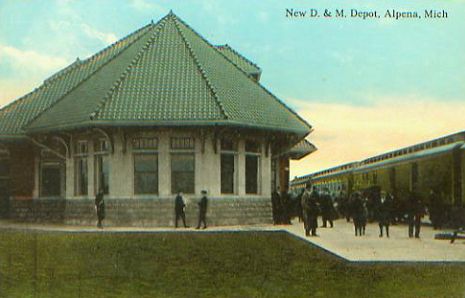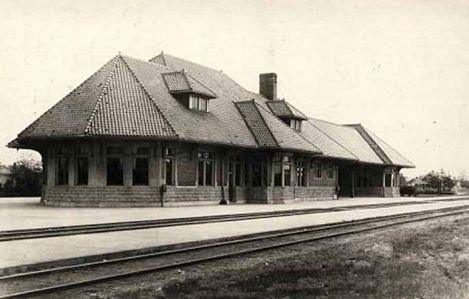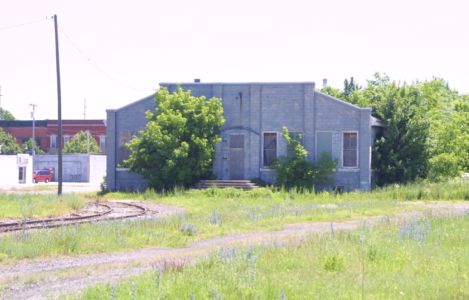 Alpena was settled around 1835 and originally called Freemont but was changed by the post office to Alpena. [MPN] The first railroad communications from the south came in 1886 with the arrival of the Detroit, Bay City & Alpena. The Alpena & Northern railroad was constructed northwest into the forests around 1893 after the area became a logging center at the mouth of the Thunder Bay River. The Huron Portland Cement Company began producing cement from the region's large limestone deposits in 1907. The Boyne City, Gaylord & Alpena railroad entered Alpena in about 1915.
Photo Info: Top, this appears to be the original Alpena & Northern depot on the north side of the Thunder Bay river, about 1900. The building to the right is the original freight house (confirmed by [SBM]) which was later replaced by a block freight house. The building to the right behind the freight house is an Alpena fire station with hose and lookout tower. The white building to the left with a cupola is the 3-story American House hotel. [ Alpena Public Library collection]. 2nd photo is a postcard view of the new depot with a northbound train. 3rd photo is a black and white photo possibly taken for tax valuation purposes of the new depot. [Both, Alan Loftis collection] The 4th photo is an early shot of the depot with a northbound train and quite a crowd standing by. This photo was later made into a colorized postcard. [Dale Berry] Bottom, a view of the newer freight house, north of the river. The track going east on the left of the building is the approximate location of the A&N main line. At the time of this photo in the mid-1980's, the building was used as a brewery and an the rail line was an industrial spur to the former Fletcher paper mill on Alpena Bay. [Dale Berry]
---
Notes
Alpena had several railroad depots over the years for all three railroads. But quickly, the new D&M depot became the terminal for passenger trains to and from points in the lower peninsula and beyond. The D&M also had a sizeable freight house on the north side of the river not far from Fletcher paper facilities. The building continues to exist, used as a restaurant.
---
Time Line
1884. There were 22 passengers on the stage last Friday on the trip from Oscoda to Alpena. During the journey the stage upset four times and the passengers dumped alongside the road. At one upset, a big fat woman landed on a well known citizen and he had to call for assistance. [AAN-1884-0305]
1906. Congress will be asked to improve Alpena's harbor. A fleet of big boats will carry limestone to the steel plants at Gary and Chicago. The cement plants will also keep a line of big boats busy carrying cement. [DFP-1906-1224]
1909. June 3. Joseph Jeskonski, 12, found an unoccupied engine in the D&M railway yards here, with 60 pounds of steam up, jumped aboard, pulled the throttle wide open and sent the locomotive spinning down the tannery track into a waiting freight train. The engine was demolished, and several cars reduced to splinters. The boy jumped and was slightly hurt. He was arrested by Detective Wyman and brought here before Probate Judge Campbell. He will be sent to Detroit. It was shown that he was one of a gang of youthful tramps who had looted freight cars in the same yards last March and had been let go on a suspended sentence. The loss to the engine and rolling stock is in the neighborhood of $3,000. [PHTH-19099-0603]
1910. The new station for the D&M railway at Alpena, designed by Architects Spier, Rohns & Gehrke, is to be a 50 x 122 feet, constructed of concrete, paving blocks and limestone with a Spanish tile roof. The waiting room will be finished in glazed tile wainscoting, mosaic floor and heavy open-timbered roof ceiling, large open fireplace. There will be a women's room with toilet and a smoking room with toilet. These rooms will be in glazed time with weathered oak. There will be indirect steam heat. [DFP-1910-0109]
1911. The fire at Alpena is under control. There is no fire south of Alpena excepting at Oscoda and Au sable where upwards of 18 buildings were destroyed. The Bay City fire company assisting Alpena returned to Bay City. [LSJ-1911-0612]
1925. Rail Line Ousted from city streets. A long-drawn and bitterly fought war between the former Frank W. Gilchrist interests and the BCG&A railroad for possession of a part of the latter's right of way across Alpena streets, has been concluded in the circuit court with an order ousting the railroad from the property in dispute. Gilcrest was a one-time lumber magnate ad sawmill owner of Alpena and he began a limestone quarry project during his last years of life. In 1905, he closed his sawmill at the end of the mouth of the Thunder Bay river and decided to erect a plant and quarry the limestone deposits on some of his property. He planned a short railway as part of the project and began acquiring right of way. A few years later, before he had begun to build his road, the BCG&A was permitted to unload steel rails on Gilchrist's dock and to smooth a temporary right of way through the Gilchrist tract. No road was built and in 1912 Gilchrist died. The Gilchrist estate guards blocked the crossing and the BCG&A drove them away and laid track at night without ballast. Mayor L. G. Dafoe called out the Alpena fire department who sprayed a stream of water on the railroad workers. The courts issued an injunction. [LSJ-1925-1204]
1927. The D&M had a daytime operator at their passenger depot. [ETT-1927]
---
Industry
A. J. Thomson Shingle Mill (DM)
Albert Pack Saw Mill (DM)
Alpena Cedar Co. (DM - cedar posts)
Alpena Excelsior Co. (DM - 1898)
Alpena HIde and Leather Co. (DM - 1895)
Alpena Motor Car Company
Alpena Municipal Water Works and Electric Plant (DM)
Alpena Planing Mill Co. (DM)
Alpena Portland Cement Co. (DM - 1899)
Alpena Roller Flouring Mill (DM) - flour mill built 1900 S. 9th st.
Alpena Slat & Crating Co. (DM) built 1895
Alpena Spool Company (DM) built 1890
Alpena Sulphite Fiber Co. (DM)
Alplena Woolen Mill Co. (DM) built 1896 - N. 10th St. n/Minor St.
A. W. Brown Excelsior Mill (DM) - 1897
Besser Churchill Co. (DM - stave, shingle and ties)
C. Moench & Sons Tannery (DM) built 1895
Comstock Bros. Saw Mill (DM)
Eales Brothers Shingle Mill (DM) 1901
Excelsior Ware Housed and Mill (DM) 1898
Fletcher Paper Mill (DM) (corner of Bay and river)
Fletcher Paper Co. ground wood pulp mill (&M) near dam. Built 1899.
F. W. Gilchrest Saw Mill; Hardwood Planning Mill (DM)
Island Mill Lumber Co. (DM) south side of river on W. River St. at N. 6th St.
J.M. Johnson & Son. flour mill & planing mill (D&M)
Michigan Alkali Co. (DM - stone works)
Michigan Veneer Co. (DM - 1899)
Morse Manufacturing Co. Saw and Shingle Mill (DM)
Northern Extract Co. (DM - extract from hemlock bark)
Richardson & Son Lumber Co. (DM) built 1872 River and 3rd St.
Sioux City Seed Company (DM)
Sulphite Fiber Works (DM) 1901 (near Fletcher Paper)
Walker Veneer and Panel Works (DM) 1897-1898
Note: Alpena had many saw mills and related organizations which were based on the Thunder Bay River and did not have railroad service, especially before 1890. These facilities are not included in this list.
---
Books and Articles

: