Location: Toledo, OH - Alexis Tower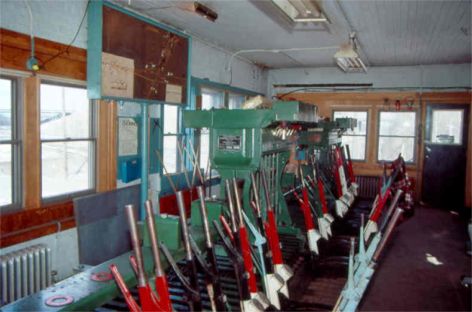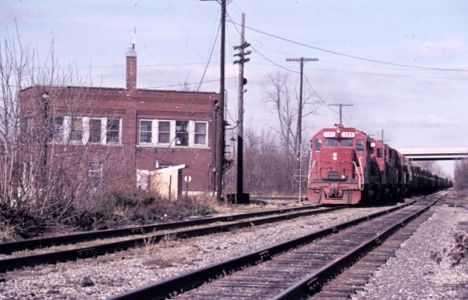 Alexis Interlocking Tower was at the crossing of the NYC Detroit line and the Ann Arbor/ PRR and Pere Marquette lines heading north and northwest out of the city. This was a NYC tower.
Photo info/credit: Top, Alexis Tower on the north side of Toledo, Ohio. This tower protected the crossing of both NYC main lines to Detroit as well as the Ann Arbor Railroad and the C&O. In its heyday, the tower also saw trains of the Pennsylvania Railroad. 1983. 2nd photo, the interlocking plant in Alexis was a combination of "strongarm" type, as well as two additional electric interlocking machines (green units). These may have controlled nearby interlockings such as "K", just south of Alexis. 1989. [Both, Charlie Whipp]; 3rd photo an Ann Arbor railroad train passes Alexis Tower (under Conrail ownership) in 1979. Charles Geletzke Jr. photo.
---
Time Line
1917, The MC had an towerman-operator here around-the-clock. [TRT]
1923. January 13. A rear end collision on the Pere Marquette here kills two and injures four. ICC Report [PDF]
1925. The Michigan Central adds 12 electromechanical levers to this interlocking. [RSC-1925]