Station: Romulus, MI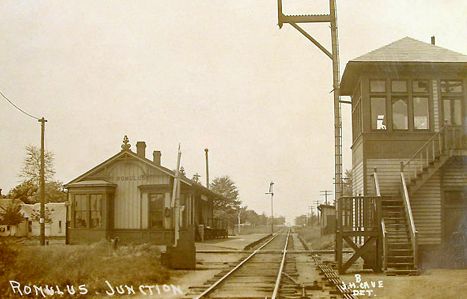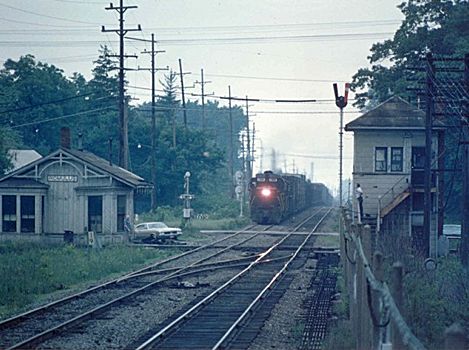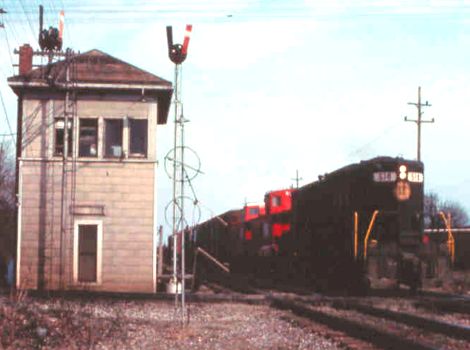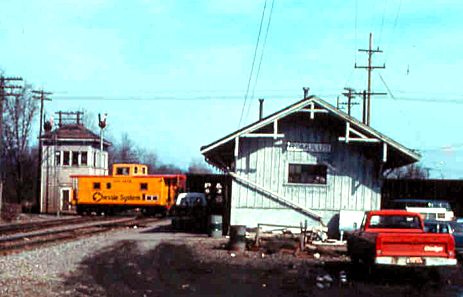 Romulus was settled about 1827 in western Wayne County and became a village in 1871 and a city in 1965. [MPN] Romulus was the location of a crossing of the east-west Wabash railroad (Detroit to St.Louis) and the north-south Pere Marquette (Toledo to Ludington via Saginaw). They had a union station and interlocking tower here.
Photo info: Top, an old view of Romulus depot and interlocking tower, when the Wabash line was single tracked east and west. [Alan Loftis collection]. 2nd photo the same location in a later view. Note that the depot has been moved slightly south to make way for the second main track. An eastbound Norfolk & Western general merchandise freight heads past the home signal at the Romulus interlocker. Note the pipes coming from the base of the tower which controls switches and signals. The train order board indicates no train orders for the N&W in either direction. 1977. [Charlie Whipp]. 3rd photo, Romulus Interlocking Tower which controlled the crossing. In the days of Toledo to Detroit passenger trains, the Pere Marquette changed lines here for a quicker trip to Fort Street Union Station using the Wabash tracks. 1977. [Charlie Whipp]. 4th photo, a 1977 photo of the Romulus Interlocking Tower and the Wabash passenger station. [Charlie Whipp]
---
Notes
---
Time Line
1898. The F& PM had a day agent at this station. The wye tracks to the Wabash were also used for turning locomotives.