Station: Grosse Isle, MI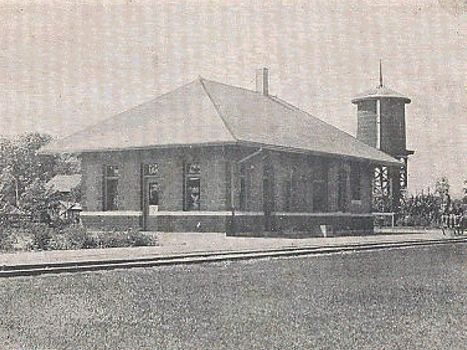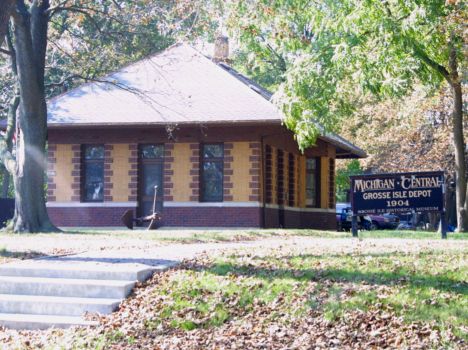 Grosse Isle, which is an island in the Detroit River near Trenton, was settled about 1776 when it was deeded to settlers by the indians. [MPN]
Grosse Isle was served by the Chicago & Canada Southern railroad, which crossed from Gordon, Canada via ferry to Stony Island, and the Grosse Isle beginning in 1874. The United States Government established a custom's house on the island to monitor incoming people and goods. The railroad was leased in perpetuity by the Michigan Central which continued to use the crossing for traffic to and from Canada until 1883. The MC built a station on the island which continues to exist today. When the new MC Detroit river tunnel was built in 1908, this line decreased in usage and was pulled up by the early 1930's.
Photo info: Top, the Michigan Central depot at Grosse Isle. This depot served as the entrance to Michigan and the United States from Amherstburg, Ontario. A ferry was used to cross trains on the Detroit River to Stony Island, then across a fixed bridge to Grosse Isle island and this depot. [Dale Berry photo]. 2nd photo, nother photo of the area near the depot at Grosse Isle taken around 1900. This is apparently the original depot which was in place until the newer depot was built in 1904. [Both, Library of Congress collection]. 3rd photo, a 2002 view of the restored station. [Dale Berry]
---
Notes
The railroad on the island was informally known as the "Grosse Ile railroad". The line was 3.6 miles long. [HMC]
The first bridge on the west channel of the Detroit River was four span.
The smaller bridge between the island and Stony Island was 900' long with six spans and ended at the ferry slip. [HMC]
A bridge or tunnel to Ontario was anticipated but never built for a variety of reasons.
The railroad had the following facilities on Grosse Isle including a depot (which still exists), a six stall engine house, a machine shop, a blacksmith shop, a coal dock, a freight transfer house, a water tower, a stockyard, and a U.S. Customs House. The railroad yard on Grosse Isle extended from near the depot (on the east shore of the island) east about 1 mile. It had nine tracks at its widest point. [HMC]
---
Time Line
1874. The railroad begins operations from Slocum Junction on the mainland to Stony Island via Grosse Isle and two bridges. A car ferry is operated to Gordon, Canada near Amherstburg. [HMC]
1875. May. A train arrived at Grosse Isle yard at night from Toledo. A "pony" engine commenced work at the rear of the train. The road engine in front left the train for water. The rear engine shoved ahead. The front engine came back hard enough to break the draw-bars of three of the cars. A tramp and trespasser was killed, his own fault. [MRC-1878-pg. 12]
1879. The Canada Southern steamer Transfer ferried 1,074 cars between Stony Island and Amherstburg and also made six light trips on account of lack of cars. The article notes that due to short and inadequate sidings, the concentration of traffic from Detroit, Toledo and from the Fayette division on a single track of a mile and 1/2 from Slocum's Junction to the ferry boat presents great difficulties. [DFP-1879-0422]
1883. Ferry service to Ontario was discontinued in favor of a crossing at Detroit but was operated occasionally until 1988 (due to ice at Detroit) when is was discontinued completely. [HMC]
1890. Commencing June 23, the MCRR will put a new train on the Toledo division to run between Detroit and Grosse Ile. It will leave Detroit at 6:10 a.m. and arrive at Grosse Ile at 8:07 a.m. During the day it will make trips between Grosse Ile and Slocom Junction to connect with all regular trains to and from Detroit and Toledo, and will leave Grosse Ile to returning to Detroit at 3:20 p.m. reaching here at 4:10 standard time. [DFP-1890-0621]
1903. The MC builds a new station here. [MCR-1903]
1905. Two spans of the bridge to Stony Island was removed. The remaining spans were removed in 1913. [HMC]
September 1919. The MC established a 400' side track at the Grosse Ile (sic) Country Club with an eastbound trailing switch. The siding was removed in 1926. [SMA]
January, 1924. Passenger service to the island is discontinued. Freight operations continue. [HMC]
June 16, 1929. Rail service to Grosse Isle is discontinued. In its final days, trains were pulled by a light switch engine with only a handful of cars (due to weight problems and light rail on the bridge). Railroad land on the island had been sold off and the right-of-way sold to Wayne County for use as a road. Railroad land near Slocum Jct. reverted to the Slocum family and was later sold to Detroit Edison. [HMC]