Station: Denton, MI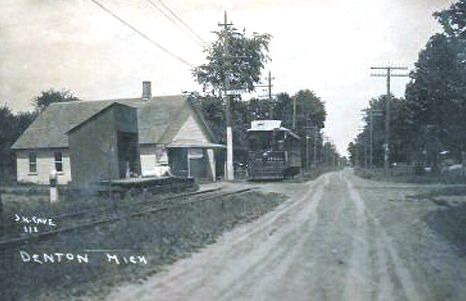 Denton was located in Canton Township and became a station on the Michigan Central railroad in 1864. [MPN]
Denton was located about six miles west of downtown Wayne near the Washtenaw County border.
Photo info: Denton inerurban station in western Wayne County's Canton Township. The depot appears to be the small shelter with a platform in front.
---
Notes
---
Time Line
1866. February 27. A sad accident happened at Denton's station on the line of the Michigan Central Railroad yesterday afternoon by which three men were instantly killed. The engine "Flying Cloud" attached to a construction train, after leaving Denton's, where the men were engaged in loading spiles [sic] was taken to Ypsilanti about five miles west, for water. When returning to Denton's and when just west of the western switch, the boiler exploded, scattering the fragments in every direction, completely demolishing the engine so that scarcely a trace of it remained and knocking down the neighboring fences. All persons on the engine were instantly killed, the engineer from Dexter, fireman from Detroit, and conductor from Ypsilanti.
The engine was one of the "Clouds" put upon the road some eight or ten years ago as fast passenger engines. It gave good service in that capacity but was superseded by engines of more modern build. It had just come out of the shop, where it had been fully and thoroughly repaired and was considered good for many years' of service yet. [DFP-1866-0227]
1917. The MC had an agent here who was not an operator. [TRT]