Location: Greenfield Village, Dearborn, MI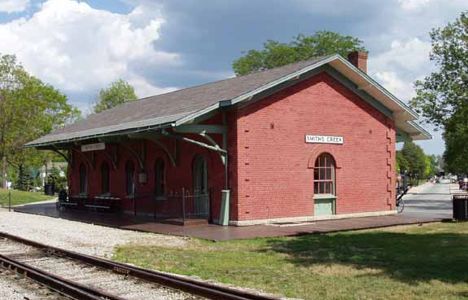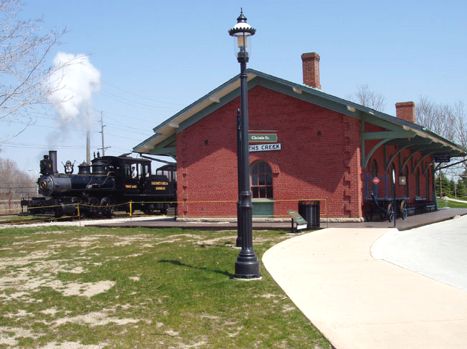 Greenfield Village and the Henry Ford Museum (called "The Henry Ford") is a historical village created by Henry Ford in the 1920's and opened in 1933 in west Dearborn. The Village has a connection on the Michigan Central main line (Detroit to Chicago) about 1 mile west of the Southfield expressway.
The Village has a standard-gauge railroad loop which is about 1.5 miles long which pulls tourists around the facility from Smith's Creek Station. The line also has period semaphore signaling installed, as well as a working roundhouse and water tower.
A spur off the former MC line leads to the Henry Ford Museum which contains a number of static steam locomotives and other railroad passenger and freight cars.
Photo info: Top, Smith's Creek Depot at Greenfield Village, in Dearborn. This was a former Grand Trunk depot from St. Clair County which played a role in Thomas Edison's life. 2003 photo. 2nd photo, another photo of the depot with the "Torch Lake" locomotive in back. [Both, Alan Loftis]
Location: 42o18.212'N / 83o15.040'W.
Greenfield Village has a 70' hand operated turntable, moved here from the Pere Marquette in Petoskey. They also have water and coaling towers. The turntable, prior to use in Petoskey, was used in Saginaw according to GV railroad officials.