Location: Advance Departure Yard, Dearborn, MI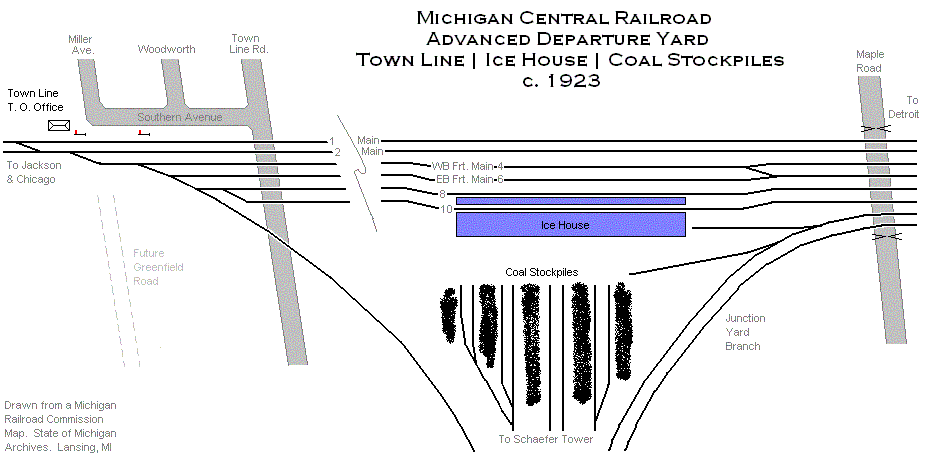 The Michigan Central Advanced Departure Yard was located on the south side of the MC main line between Detroit and Dearborn, between Miller Road and Greenfield Road (known as Town Line). The four-track yard originally included two freight mains (westbound freight main 3 and eastbound freight main 4) and two departure tracks. At some point after World War II, the designation of freight mains 3 and 4 were discontinued and the tracks were renamed tracks 4, 6, 8 and 10 and called advanced departure tracks. These tracks were used to store assembled westbound trains, as well as to hold eastbound freight trains until they could be humped. The yard was about 6,500 feet in length but varied by track.
Other features of the Advanced Departure Yard were the ice houses for stocking refrigerator cars (near Schaffer Road), a diesel fuel pad (between the eastbound main and track 4), and large coal stockpiles and sidings which were located within the wye between the Junction Yard Branch, the old/new wyes, and the advanced departure yard. The ice houses were removed with the coming of mechanical refrigeration. The coal piles disappeared with steam locomotives.
Also called the "Advance" Departure Yard. [MCTC-1950]
Location: 42o18.833'N / 83o11.120'W.