Interlocking: Ecorse Junction, Detroit, MI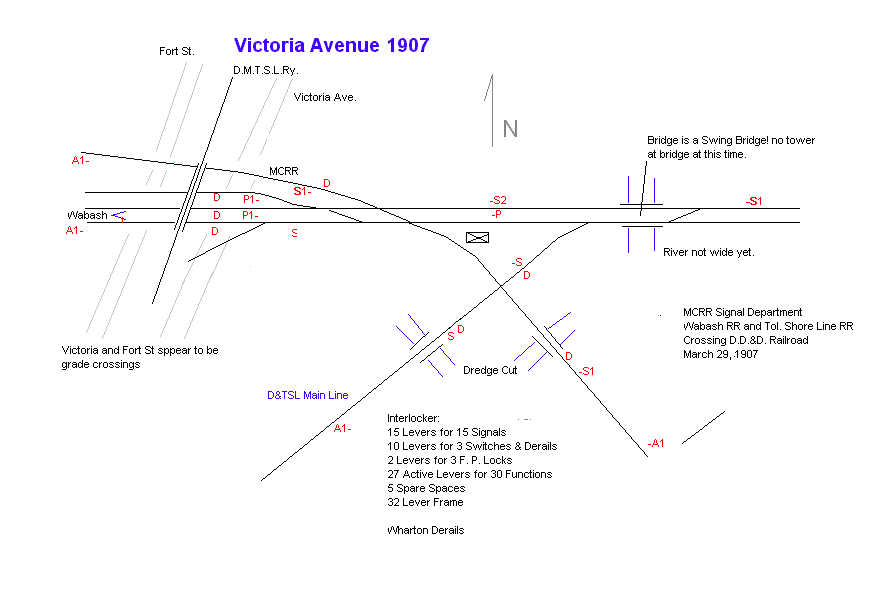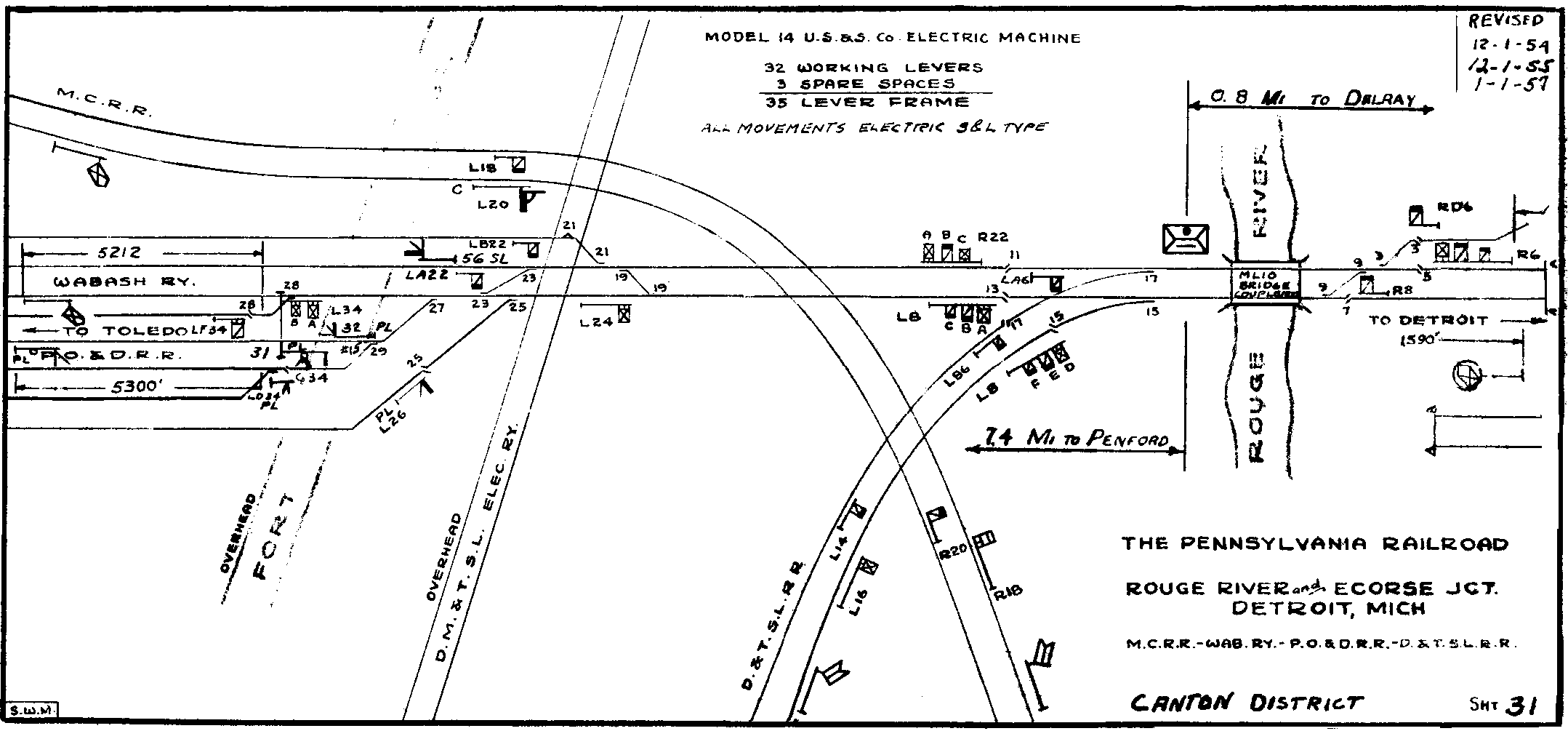 Ecorse Junction was the crossing of the Wabash main line and the DD&D branch (later Junction Yard branch) of the Michigan Central. The Wabash also had two diverging routes at Ecorse Junction, one south on the Detroit & Toledo Shore Line railroad and one to the Pennsylvania railroad's line to Carleton.
Photo info: Top, a drawing of the interlocker map in 1907, taken from the State of Michigan Archives. Note that during this period, the DD&D was single track. It was later double tracked through this area, and then cut back in the Conrail era back to single track. The same situation with the D&TSL line. [Dale Berry] 2nd photo, a track diagram from the Pennsylvania railroad. 3rd photo, Ecorse Jct. (also known as Victoria Avenue on the MC), taken from the Fort Street bridge in 2002. I-75 is overhead in the background. The track on the left which crosses the double NS main line is the Conrail Junction Yard branch which goes to Town Line (towards the camera) and CP-YD (to the upper right). The track on the far right is the former Pennsylvania Railroad main line. This joined the NS main line so that PRR trains could route into the Fort Street Union Depot. A connection track was built under Conrail ownership so that trains could go from the PRR to CP-YD (and ultimately into River Rouge Yard). [Dale Berry]
---
Notes
Victoria Avenue Tower (as it was known on the MC) communicated on MC Grade Line No. 4 (l long). Also on this grade line were Miller Road Yardmaster (2 long, 1 short), Livernois West Bound Hump Yardmaster (4 short), Livernois Westbound Train Yard Yardmaster (2 short), Schaefer Tower (3 long, 1 short), YD Tower (1 long, 1 short, also known as Pleasant Avenue Tower), and Town Line Telegraph Office (1 short, 1 long, 1 short). [ MC Detroit Terminal Timetable No. 76]
---
Time Line
1912. The railroad commission approves plans submitted by the Michigan Central proposing a full interlocking and derailing switch and signal system at the crossing of the DD&D branch with the DTSL and Wabash railroad in the vicinity of Victoria avenue, and also the main track of the LS&MS and the sidetrack of the Wabash Railroad in the vicinity of Pleasant Street, River Route. [MCR-1912]
1927. The Pennsylvania railroad constructs a new interlocking plant at their junction with the Wabash west of the Rouge River. This is a 27 all electric interlocking. [RSC-1928] Note: This is likely controlled by the Rouge Bridge tower.