Interlocking: Belt Line Junction, Detroit, MI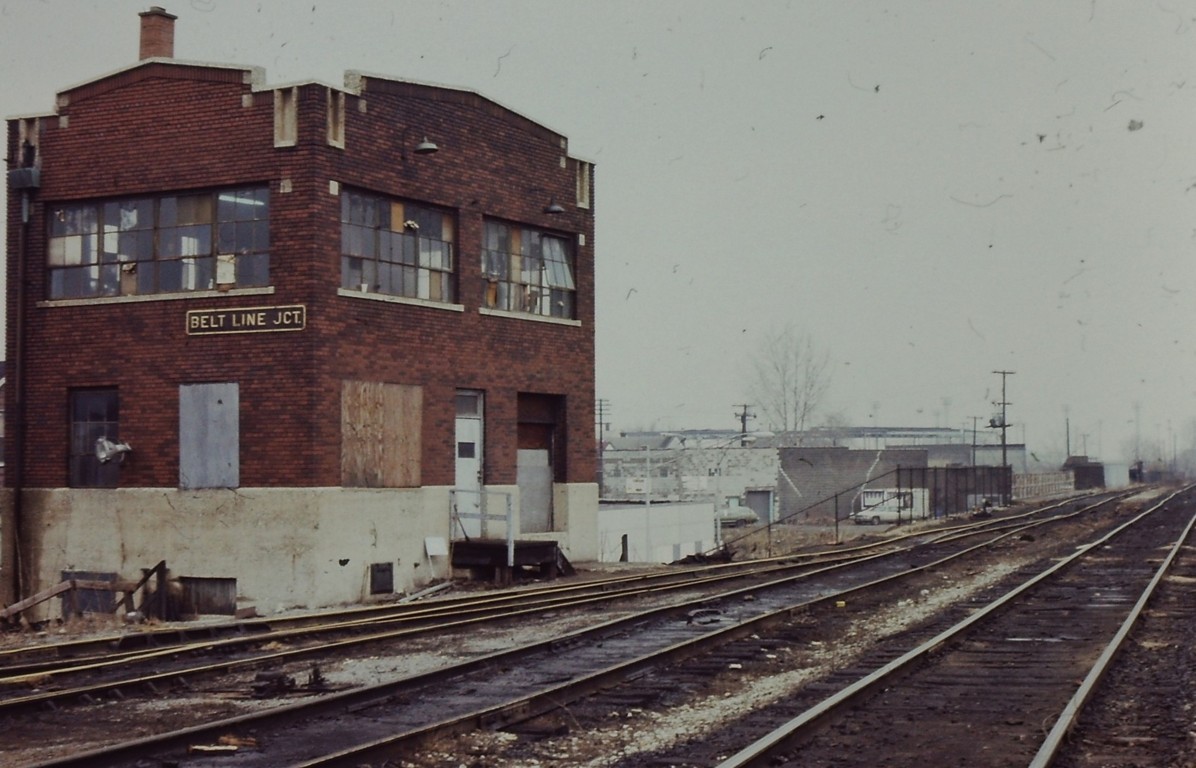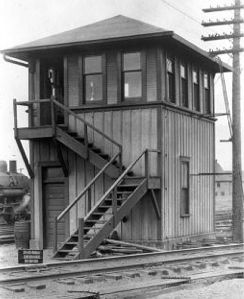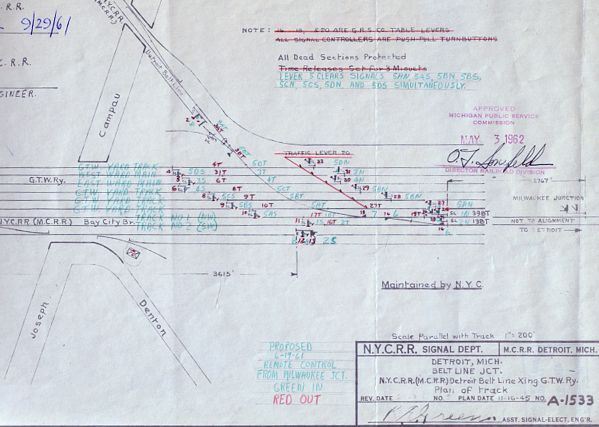 Belt Line Junction was an interlocking tower on the Michigan Central Bay City Branch, just northeast of Milwaukee Junction. MC trains left the main line here crossing the GTW main line and yard, to get to their Belt Line which went southeast to the Detroit river front and the Detroit Manufacturers Railroad. The railroad, a MC operation, ran along the Detroit River between Dequindre and Mt. Elliott.
Photo info: Top, Belt Line Tower in a 1978 photo. [Charles Geletzke Jr.]. 2nd photo, an earlier tower (prior to 1912} at Belt Line Jct. 3rd photo, a schematic drawing of the track layout and interlocker at Belt Line Jct. This diagram was drawn in 1945 and updated in 1961. From the State of Michigan Archives.
Belt Line Junction was the original start of the MC Belt Line, but the MC built the Belt Line Extension from North Yard to a location just north of the Ford Expressway (I-94) as another way to access the Belt Line. This extension crossed the GTW at Forest Lawn Tower (near Forest Lawn Cemetery).
---
Time Line
1904. The MCR orders a first class interlocking and derrailing switch and signal system at this location. [MCR-1904]
1912: The Michigan Central is preparing to construct a mechanical plant having a 40-lever Saxby & Farmer machine at the crossing of the Grand Trunk Western, the Michigan Central and the Detroit United Railways on Jos Campau avenue in Detroit. The plant will also govern the junction of the Michigan Central and the Michigan Central Belt Line. The signals and derails at the Belt Line Crossing and the Michigan Central Belt Line Jct. are already installed and operated from another tower, which is to be replaced by a new tower. [TSE-2/1912]
1935: Belt Line Junction communicated on Grade Lines 2 and 3. Also on Grade Line 2 was Beaubien (1 long, 2 short), Milwaukee Junction (1 long, 3 short), North Yard (3 long, 1 short); West Detroit (2 short); and Vinewood Avenue switch tender (1 long, 1 short). On Grade Line 3 were the Belt Extension Yardmaster (1 long, 3 short) Forest Lawn Tower (1 long, 2 short); North Yard (4 short). [ MC Detroit Terminal Timetable No. 76]
~1962: This tower is closed with operations being remote controlled from Milwaukee Jct.