Interlocking: Rochester Junction, MI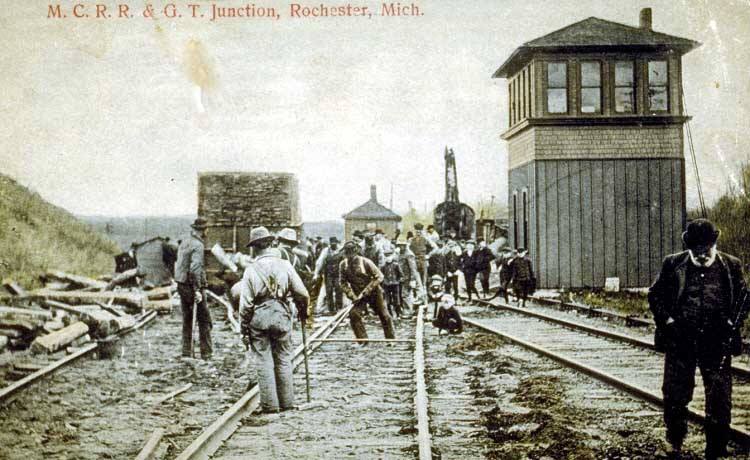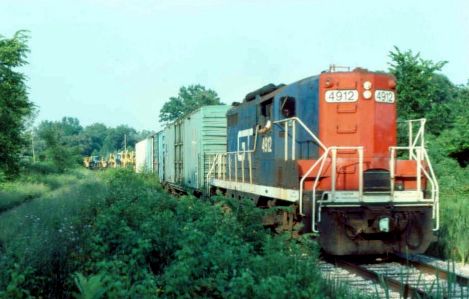 Rochester Jct. was the crossing of the Michigan Central Bay City branch and the Grand Trunk Western M.A.L. branch. Rochester Jct. was remoted to the Michigan Central Railroad Rochester depot some time in the early 1930's (in '31 or '32) and the tower closed.
Photo Info: Top, a photo of the Rochester Jct. tower with what appears to be a nearby train derailment. [Peter Dudley collection]. 2nd photo, GTW 4912 is westbound at Rochester Jct. in 1983. [Charlie Whipp photo].
More comments from Charlie Whipp: This was probably done in conjunction with the closing of Main Street tower when the DUR Flint Division was abandoned in April, 1931.
Main St. stayed open for a while after the DUR closed down as a Western Union office. It also provided crossing protection at M-150.
The Diamonds were in the middle of the street here. The Michigan Central had three tracks across Main St. and the DUR also had three. It must have made a lot of noise in downtown Rochester. I have only seen one photo of Rochester Jct., and it was a wooden frame tower.
The Main Street tower was a brick and wooden structure and there are several photos of this building in existence.
When the MC Rochester depot was closed in 1962, Rochester Jct. was converted to an automatic interlocking and it stayed in service until 1976 when the PC line was abandoned through Rochester. Rochester MC depot survives as a clothing store, the MC Bay City line is a recreation trail between Rochester and Lake Orion, MP 31 to MP 40.3. The diamond at Rochester was at quite an angle. It also had a permanent speed restriction on it that made it tough to get a train started on the MC if it happened to be underpowered, or the power was acting up. The PC sometimes had to double the hill at Rochester with a heavy coal train, they would usually be down on their knees going up the hill through Rochester. I have a shot at taken at Rochester with a F leading, a N&W C630 and two U boats trailing and they are pulling for all their worth. Great railroading, now only trails there. Contribution from Charlie Whipp.