Station: Dundee, MI - Interlocking Tower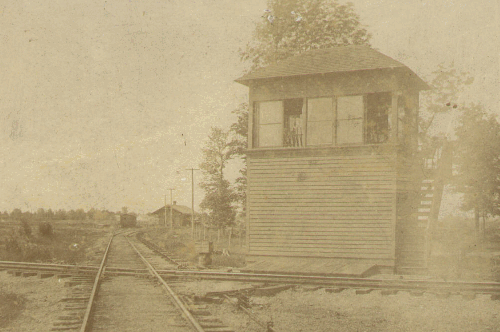 This interlocking tower was at the crossing of the Ann Arbor railroad and the Canada Southern line between Trenton and Fayette, OH (later becoming the DT&I on this section).
This tower was likely removed when the DT&I was pulled up (between Dundee and Tecumseh) in the 1930's. There is no record of this crossing in the Ann Arbor Railroad's 1936 employee timetable.
Photo Info: The tower, which was just north of the AA Dundee depot. Date unknown.
---
Time Line
1896. On October 9, an Ann Arbor railroad sand and gravel train struck another freight train which was taking on water at the Lake Shore crossing in Dundee. The wreck was described as "a sad affair", with the gravel train's engine and cars ditched and piled two and three deep. The train crew jumped in time to save their lives. [YEX-1896-1009]
1897. The protracted controversy over the route of the Detroit & Lima Northern road was definitely settled to-day when the state railroad crossing board approved the maps growing out of the purchase by that company of the Dundee branch of the Lake Shore & Michigan Southern. By the terms of the contract the D&LN will be required to establish and maintain complete interlocking devices at the crossings at Dundee and Trenton with the Ann Arbor and Michigan Central and Lake Shore respectively, and half interlockers at 12 spur crossings near Detroit. [DFP-1897-1116]
1918: The DT&I had an operator around the clock at this tower. [TRT]
1923. The MPSC gives the DT&I permission to change the interlocking scheme at this crossing so that a clear signal can be set on both the north and southbound Ann Arbor railroad on Sundays, allowing the tower to be unmanned. The DT&I does not run trains here on Sundays. [MPSC-1923]