Location: Monroe, MI - MC/LSMS Crossing, MI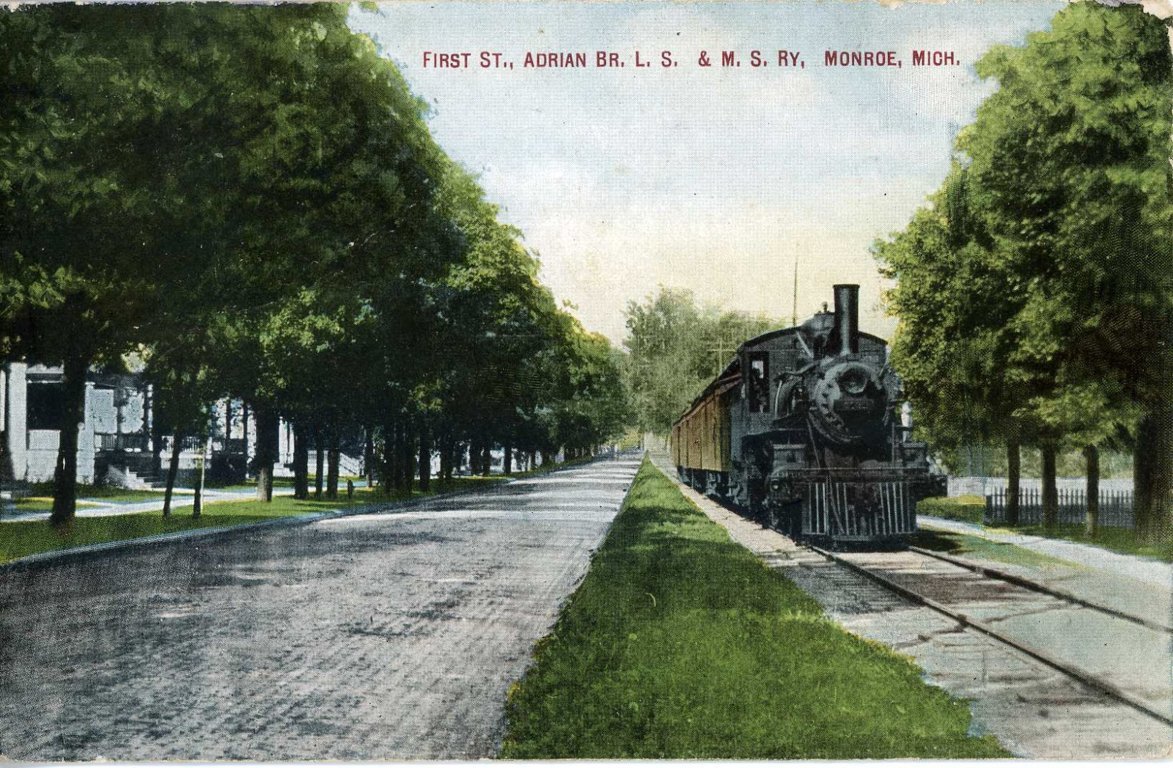 This is the crossing of the NYC (former "Southern" line/LS&MS) line and the north/south Michigan Central Detroit to Toledo branch. The "Southern" line was later named the Monroe branch and it went west from Monroe to Lenawee Junction. The crossing had a signal tower at one time, but for most of its existence had stop gates across the Monroe Branch. When the gates were moved across the MC, the signals were set to red.
Photo Info: A Lake Shore train follows First Street out of town headed towards Adrian in this postcard view.
In 1903, the Detroit & Toledo Shore Line was built and crossed at this location. An interurban line also crossed the Monroe branch at Monroe Street, and the Flint & Pere Marquette extended its line to Toledo across the Monroe branch about a half mile west of the Monroe branch depot at a seperate interlocking
The north/south MC line was originally two different railroads and they were seperated in Monroe by about 250 feet. The west track was the original Lake Shore & Michigan Southern line to Detroit (and Toledo). The east track was the Michigan Central Detroit-Toledo branch. After both lines came under Vanderbilt control before the turn of the 20th century, the lines were combined and operated as if they were double tracked, the east track northbound and the west track southbound. Both tracks were directionally signaled early on and bidirectionally signaled one hundred years later.
The east/west Monroe branch terminated 0.4 miles east of the crossing on Lake Plaisance Bay (Lake Erie). The Monroe depot for this line was one mile west of this crossing a block west of S. Monroe Street. [MPN]
---
Time Line
1904. The MCR requires the LS&MS and MC to install and maintain a swinging gate at the crossing of their lines at First Street in the City of Monroe. [MCR-1904]