Interlocking: Milan Tower, MI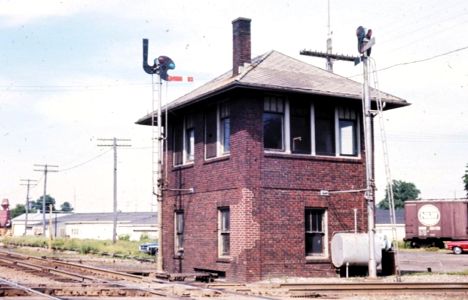 Milan interlocking tower controlled the crossing of the Wabash main line (Detroit to Montpelier, OH) and the Ann Arbor main line (Toledo to Frankfort). Th crossing had wyes in each quadrant except the southwest quadrant,
The old tower was destroyed in a train derailment. It has been reported that this tower building was used previously at Britton, MI and moved when the crossing at that location was decommissioned.
Photo Info: Top, the old tower and depot at Milan. [Alan Loftis collection]. 2nd photo, the"new" Milan Tower in 1972. [Charles Geletzke Jr.]; 3rd photo, the new interlocking tower which was reportedly moved from Britton. 1988. 4th photo, the tower and new depot in 1983. [Charlie Whipp]
Location: 42o04.02'N / 83o41.169'W.
---
Notes
---
Time Line
1899. The state railroad crossing board has ordered interlocks at the crossing of the Wabash and Cincinnati Northern at Britton and at the crossing of the Wabash and Ann Arbor at Milan. [BHN-1899-0422]
November 30, 1900. The interlock on the Ann Arbor road at the Wabash crossing at Milan will be used today for the first time. It was put in under the supervision of Milo Bott, of Owosso, who has general charge of the water works and interlocks of the [ Ann Arbor] road. He met the state railroad signal inspector on the ground Saturday. There are 15 levers to interlock. It cost bout $2,200. [OT-1900-1130]
1912. The railroad commission approves re-construction of the interlocking plant here. [MCFR-1912]
December, 1912. AUTOMATIC BLOCK SIGNALS ON THE WABASH. The Wabash began work during the latter part of November on the installation of 45 miles of double track automatic block signals on its line between Milan and Delray, Mich, and between Milan and Britton, Mich. This covers the new double track, part of which is now in service. The Union Switch & Signal Co.'s Style "S" signals are to be used throughout the installation except at the interlocking plants at Oakwood, Romulus, Milan and Britton, where the Style "T" signals will be employed. The installation will be direct current, the signals operating on primary battery of the Gordon type. The interlocking plants will be equipped with indicators and annunciators and route locking, with back locks on the distant signals. The automatic signal work will be done by the Wabash's forces under the supervision of L. Parnell, general foreman. The interlocking work now under way comprises the reconstruction of the interlocking plant at Milan, Mich, which will result in the installation of a Union Style "S" electro-mechanical machine. [TSE-12/1912]
June 21, 1930: Changes in this interlocking are made to accommodate automatic block signals on the Ann Arbor Railroad from Milan north to Ann Arbor. [MPUC-1930]