Location: Ottawa Yard, Erie, MI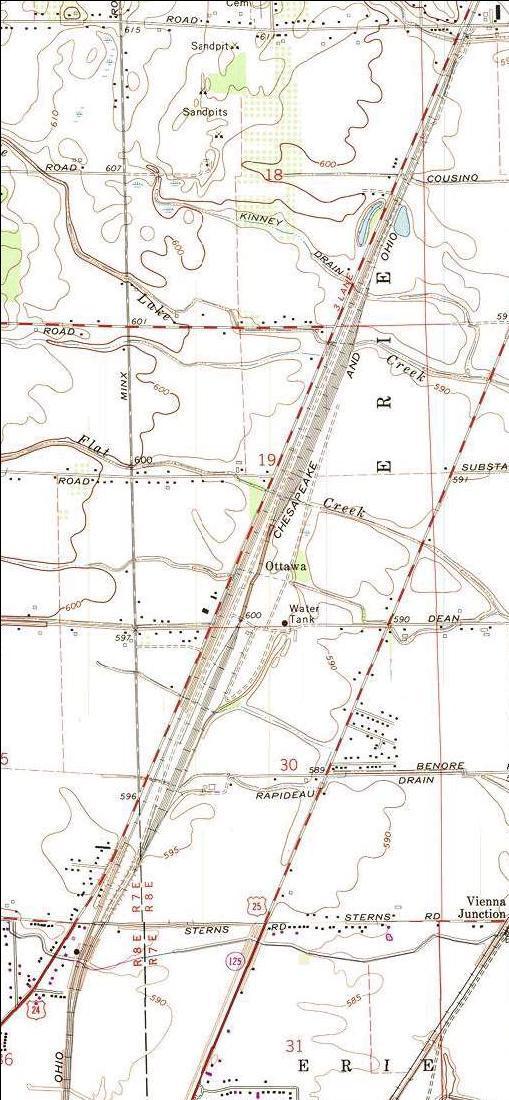 Ottawa Yard was Pere Marquette's freight yard serving Toledo, Ohio, located just north of the Ohio-Michigan line. The yard was a semi-hump type with a standing car capacity of 3,589. Freight pullers operated between the yard and connecting lines in Toledo. The yard also had an emergency icing station for produce cars and a water treatment plant for locomotive water supply. Ottawa had a 16-stall roundhouse which was built in 1924 and handled 17 engines daily. The stalls were 109' long and the turntable was 100' long. The engine facility also had a 3-chute, 300-ton capacity coal dock which was built in 1923. There were two track scales, built in 1922, 50' long with beam capacities of 250,000 lbs. On the north end of the yard (at the very top of this USGS scan, was Erie, Michigan which is where the yard began. It was controlled by an interlocking plant. [Information from PM's Operating and Physical Data, 1945 edition]. Following the full integration of the PM into the Chesapeake & Ohio, this yard was removed and operations were transferred to Walbridge, Ohio.
Photo Info: Top, a maps of the former Pere Marquette Ottawa Yard in Erie Township on the Michigan/Ohio border in 1977. [USGS/Dale Berry]
---
Information from Doug Hefty, former C&O Saginaw Dispatcher (1977-1988), posted on 4/8/2005: "Going north from Alexis there used to be 3 tracks. From east to west they were the Running track, No. 1 track and No. 2 track.The running track ended and connected into No. 1 track at a power switch that used to be at Stearns Road. All C&O trains used the running track to Stearns Rd, then No. 1 track to Erie. No. 1 track between Alexis and Stearns Road was only used by northbound Pennsylvania (later Penn Central and Conrail) trains destined Carleton. The No. 2 track out of Erie was only used by southbound Pennsylvania ( Penn Central and later Conrail) trains to Alexis. Southward C&O trains had to cross over at Erie and run No. 1 track to Stearns Road and then to the running track to Alexis to get to Hallett. Eventually Steans Road was eliminated and the former No. 2 track from there to Alexis was removed. They removed the switch and jogged No. 1 track onto the Running track (which became the new No. 1 track, and jogged the No. 2 track over onto the former No. 1 track south of Stearns road which became the new No. 2 track. They added a crossover at Alexis so C&O trains on the new No. 2 track could head toward Hallett Tower.
Ottawa Yard at Erie had a 100' three-bearing, electrically operated turntable, as of 1942.
---
From 1951 C&O Pere Marquette District description
Ottawa Yard is Chesapeake and Ohio's ( Pere Marquette District) freight yard serving Toledo Ohio, and connecting roads at Toledo. The yard is of the semi-hump type with a car-standing capacity of 3,589. The freight puller runs operate between Ottawa Yard and the several connecting lines at Toledo. Ottawa Yard is also the terminal of freight runs operating between there and Detroit, Saginaw, and Grand Rapids. An Emergency icing station is located at Ottawa Yard.
---
Time Line
Late 1800's. The PM used the Ann Arbor railroad roundhouse facilities at north Toledo until their engine facility at Erie was built.
1923. The MPSC authorizes the PM to cross Temperance Road with 10 additional tracks as a part of the expansion of Erie Yard. [MPSC-1923]
1924. The new Ottawa Yard comprises 47 miles of track holding 3,500 cars. It has repair tracks, roundhouse service tracks, etc. The yard had a receiving section, classification section and departure sections. The yard had a 16-stall brick engine house, divided in half by a brick firewall. There was also a machine shop and boiler room at the north end of the roundhouse. The turntable was of the three-bearing thype, 100 feet long and electrically operated. [" Ottawa Yard" by Art Million]]
1961. January 1. C&O railway, starting January 1, will streamline train handling in Ohio and Michigan by consolidating yard operations at Walbridge, Ohio, south of Toledo. Up until now yards at both Ottawa, Mich. and Walbridge, only 15 miles apart, have handled heavy merchandise traffic to the from industrial plants in the north. In addition, coal shipments flow stadily through Walbridge for loading on boats at C&O's Presque Isle docks during the lake shipping season. Faster and more efficient classification of trains is the principal aim of the merged operation. Train No. 290, a fast merchandise freight out of Detroit's Rougemere Yard, will be the first to benefit from the timesaving route to Walbridge, bypassing Ottawa Yard. [SJHP-1961-0103]