Station: Ottawa Lake, MI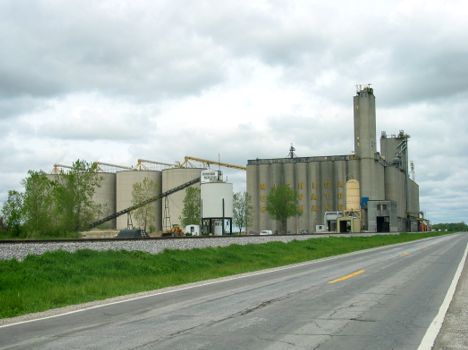 Ottawa Lake, in the very southwest corner of Monroe County, was settled about 1846. [MPN] It was a station on the Erie & Kalamazoo railroad, the state's first railroad line. This later became the Michigan Southern railroad and subsequent lines and was known as the "Old Road".
Today the Old Road is truncated at this location.
Photo Info: Top, a 1918 view of the Lake Shore depot in Ottawa Lake. 2nd photo, the Michigan Elevator Exchange at the end of the line of the Old Road just east of Ottawa Lake in Monroe County. This elevator is served by Norfolk Southern out of Toledo. The elevator has its own switcher (which is located inside the block building at the right of the photo. Traffic here is seasonal. The yards were vacant in May, 2002 when this photo was taken. At other times of the year, NS operates long unit grain trains to and from this facility. [Dale Berry]