Interlocking: Greenings, MI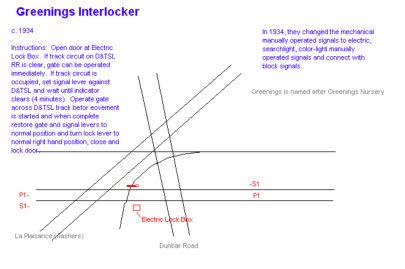 Greenings was an interlocked crossing of the Michigan Central wye to their branch to Lake Erie and the Detroit & Toledo Shore Line. This was a half interlocking with a gate. This crossing is in the City of Monroe at 1st Street at Railroad Street.
The tracks here still exist but sit unused. The crossing is no longer in place.
Photo Info: [Drawing by Dale Berry]
Location: 41o54.490'N / 83o23.003'W.
On the CN (former D&TSL) South Greenings (mp 13.0) and North Greenings (mp. 16.2) are control points to a 11,500' siding.
The MC lead here accessed the Greenings Nursery Company. [EFI]