Station: Midland, MI - Dow Chemical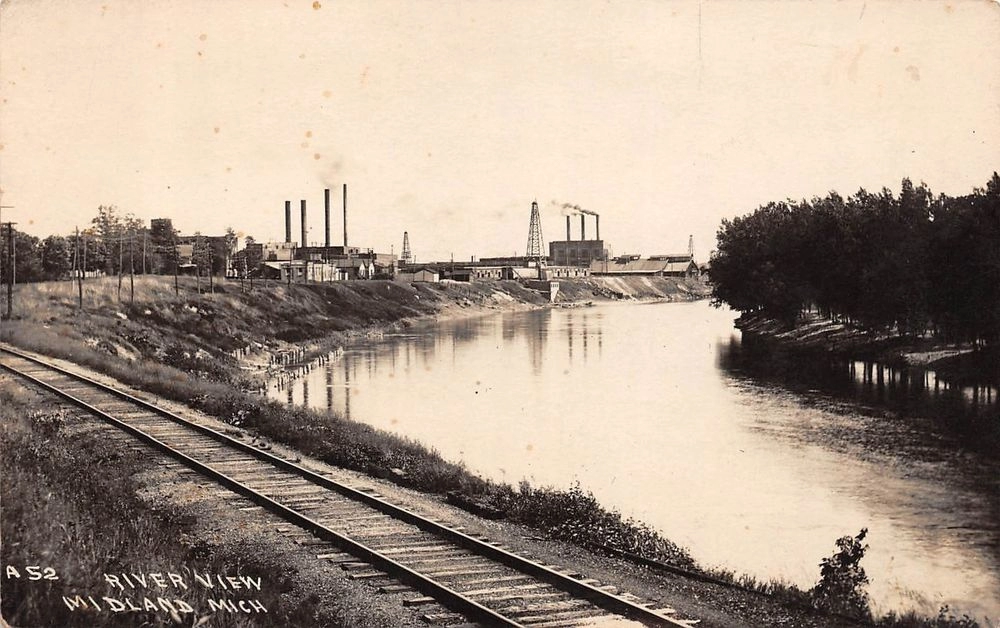 Dow Chemical was founded in 1897 by chemist Herbert Dow, who invented a method of extracting the bromine that was trapped underground in brine at Midland. The company grew to become a multinational industrial company.
Dow Chemical was served for many years by the Pere Marquette and Michigan Central railroads. Today, it is served by the Huron & Eastern and Lake State Railway.
Photo Info: This is a 1910 view of early Dow Chemical Facilities along the bank of the Tittabawsssee River.
---
Notes
The principle industry in Midland is the Dow Chemical Company, which began operations in 1889 when the late Dr. Herbert H. Dow, an enterprising, creative, independent,. salt-minded,. 24-year-old Connecticut Yankee, decided to stake out a chemical empire from the brine wells of Michigan. The organization was incorporated in 1897., the birth year of Dr. Willard H. Dow, President and General Manager of the company from 1930 until 1949.
From a humble beginning in a small shack, the Dow Plant has grown to cover more than 500 acres [as of 1951]; has 16 miles of track within its plant; runs its own bus lines; conducts its own school for chemists and engineers; has loading and unloading docks at Bay City on the Saginaw River; and owns a large fleet of tank cars. The Dow Company has subsidiary plants in California, North Carolina, Texas, and elsewhere in Michigan.
The birthplace of the present American magnesium industry is at Midland, where the first experiments were carried to a conclusion by the Dow Chemical Company in the year 1916. The Dow Company has pioneered in the processes used in the manufacture of this light-weight, multiple-purpose metal. The industry handles 500,000,000 gallons of brine a day and produces more than 95% of all American magnesium [1951]. For the production of magnesium in quantiles adequate for the war effort, and for the development of styrene, the late Dr. Willard H. Dow was awarded the 1944 Gold Medal Award of the American Institute of Chemists in New York City.
The Dow Company produces more than 500 products. Research goes on continuously in 15 independent laboratories [1951]. [COFTD]
---
Time Line
1932. An Interstate Commerce Commission examiner reports about a Dow proposal to form a railroad - the Tittabawassee Railroad - to operate and extend its railroad plant facilities at Midland. The examiner held that public convenance and necessity does not require the acquisition by the new railroad company of the chemical company's railroad plant and facilities nor the construction of about four miles of new track to a connection with the New York Central railroad. The proposal is an outgrowth of a controversy between Dow and the Pere Marquette Railroad on the matter of allowances to the former on account of switching service performed for the line haul carrier. [UVC-1932-1111]
Bibliography
The following sources are utilized in this website. [SOURCE-YEAR-MMDD-PG]:
[AAB| = All Aboard!, by Willis Dunbar, Eerdmans Publishing, Grand Rapids ©1969.
[AAN] = Alpena Argus newspaper.
[AARQJ] = American Association of Railroads Quiz Jr. pamphlet. © 1956
[AATHA] = Ann Arbor Railroad Technical and Historical Association newsletter "The Double A"
[AB] = Information provided at Michigan History Conference from Andrew Bailey, Port Huron, MI