Location: Kilgore Yard, Kalamazoo, MI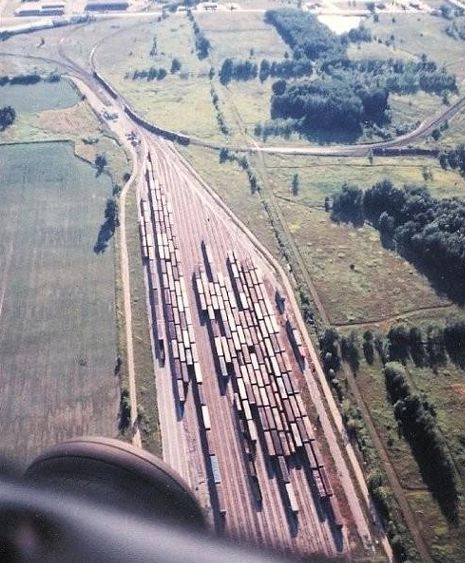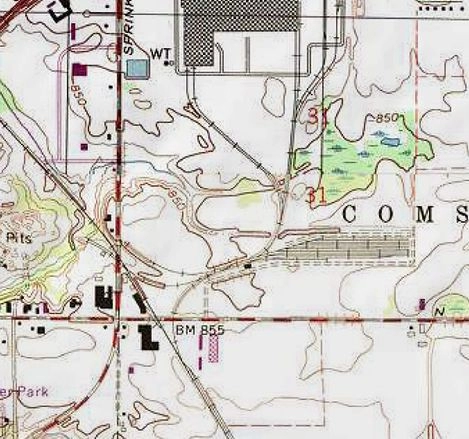 Kilgore Yard was located along the GTW Kalamazoo Subdivision southeast of Kalamazoo in the northeast corner of S. Sprinkle Road and E. North Avenue. The yard was built to service the nearby GM Fisher Body Plant.
Photo Info: Top, an aerial view of Kilgore Yard and wyes south of Kalamazoo. 1985. [Jerry Pahl, Charles Geletzke Jr. collection]. Map, a snippet of a USGS map of Kilgore Yard. [USGS, Dale Berry]
---
Notes
From Charles Geletzke Jr.: Regarding the former NYC and GTW's Kilgore Yard located on the southeast side of Kalamazoo. The yard was constructed jointly by the GTW and NYC; however, once it was built, it was maintained by the GTW.
It's main purpose was to serve and support the operation of the adjacent Fisher Body plant which, at least at that time was General Motor's largest Fisher Body facility. The plant generally operated 24-hours a day six days a week. The two railroads ( NYC-PC-CR) and GTW alternated switching the plant every other year beginning each August 1st.
When the GTW was handling the operation, they ran two jobs...Kilgore #1 and #2, which went to work at 7:00 A. M. and 7:00 P.M. (M-Sa). I know you will find this hard to believe; but at that time, when they were busy, that one plant would generate close to 100 loaded 60-foot boxcars a day! These were loads of body parts going all over North America to the various GM assembly plants. They would later return as empties, just carrying their special racks. Additionally, the plant received about ten loads of coiled steel per day, and shipped about 15 gons loaded with baled scrap. Today (1/2021), I find it hard to comprehend that the plant of all of its jobs are gone!.
---
Time Line
1984. Kilgore Yard was a 23 track stub-end yard. The yard office was located near the entrance. There was a lead north near the entrance to the yard going directly to the Fisher Body plant. [ZTS]
2023. The yard currently has six tracks. [GMAP-2023]
---
Industry