Interlocking: Kalamazoo, MI - Tower 1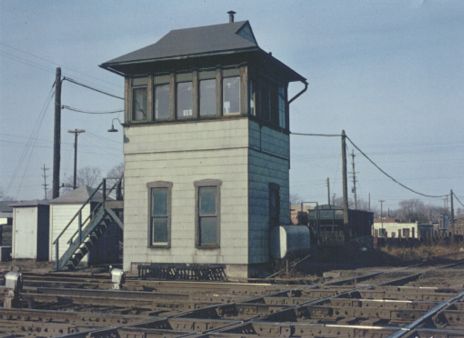 Tower 1 in Kalamazoo controlled the crossing of the Michigan Central east-west main line and the north-south crossing of the Grand Rapids & Indiana railroad.
Photo Info: Top, Tower 1 in Kalamazoo. [Greg Peet]
---
About Tower 1:
Note posted by G. M. Meints on 1/17/2005: I spent many hours at Tower 1 as a kid and worked there several times as an adult. I believe it was called "Tower 1" by the Michigan Central because it was the first interlocking tower in Kalamazoo and was built some years before BO tower was built. By the way, BO Tower has never been called "Tower 2". Like "BO" Tower, Tower 1 was owned and maintained by the Michigan Central - 100%. Of course, the PRR had to reimburse a portion of the expense to the MC (later, NYC) but the MC did the work. The tower was manned solely by MC operators on all three shifts, 24 hours a day, seven days a weeks, year around. At Tower 1, if you were answering the PRR telephone line, you called yourself " MC tower". On the MC phone line, you answered "Pennsylvania Tower". But these were vernacular replies, not the formal name of the tower. There were five MC tracks in front (to the south) of Tower 1. From the south, they were: NYC Wye, MC eastbound main, MC westbound main, MC long middle, MC House (which diverged from the Long Middle directly in front of the tower).
---
Time Line
1931. A MPUC order indicates that Tower 1 existed as of 1931.