Station: Kalamazoo, MI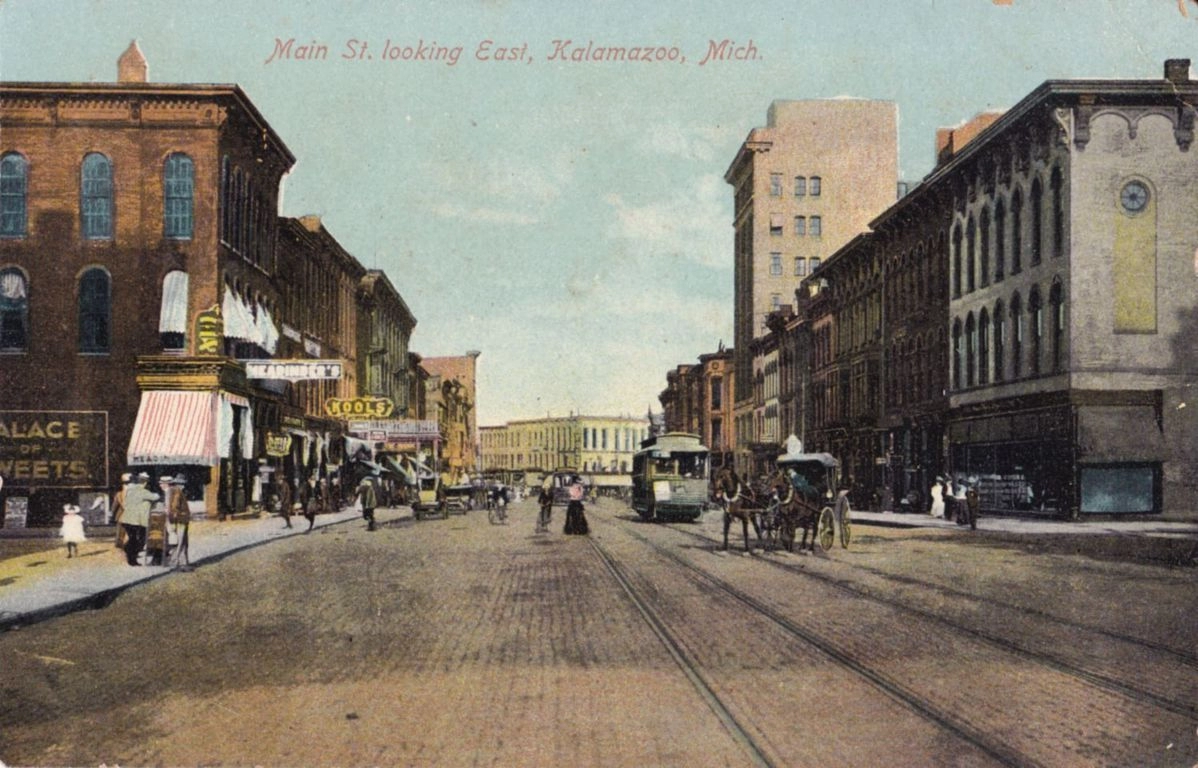 Kalamazoo was settled about 1829 and the village of Bronson was platted here in 1831. The town was renamed Kalamazoo in 1836. It was incorporated as a village in 1838 and a city in 1883. It is the county seat of Kalamazoo County.
Photo info: Downtown Kalamazoo on Main Street, looking east from Rose, with an interurban stopped in 1908.
---
Notes
The first railroad to arrive at Kalamazoo was the Michigan Central in 1846. In 1867, the Lake Shore built a line connecting the town with White Pigeon and beyond, followed in 1870 by the Grand Rapids & Indiana. 1870 was a year of railroad construction in Kalamazoo, with the MC's South Haven line being built, the GR&I extended north towards Grand Rapids, and the Lake Shore extension to the same city. In 1886 the Chicago, Kalamazoo and Saginaw was built north towards Hastings and in 1901 the CK&S line was built south to Pavillion to interchange with the Grand Trunk (the GTW later bought this line from the CK&S). Interurban lines were also constructed to Kalamazoo in the 1890's. The last line to reach Kalamazoo, was the Kalamazoo, Lake Shore & Chicago, which took over the old MCRR grade, when the MCRR line to Chicago was rebuilt around 1906.
---
Time Line
1846. The Central line (later Michigan Central arrives from Detroit)
1867. The Lake Shore & Michigan Southern arrives from White Pigeon.
1870. Grand Rapids & Indiana comes through town, connecting Fort Wayne with northern Michigan.
1883. F.W. Randall, the inventor of the well known Kalamazoo railway velocipede, has just completed a new railway carriage for the transportation of a single person or a couple of persons. [DFP-1883-1019]
1886. The Chicago, Kalamazoo & Saginaw is built north to Hastings and a connection with the PM in Woodbury.
1887. Kalamazoo has 189 telephones. [SJH-1887-0806]
1901. The CK&S is built south to a connection with the Grand Trunk Western at Pavillion.
1907. The Kalamazoo, Lake Shore & Chicago is built to Paw Paw.
Does not include interurban and streetcar lines.
---
1920 On the Michigan Central, this is a passenger agency. Interline tickets are issued. W F. McMichael is the agent. The telegraph call sign is "K". [MCOAS]