Station: Augusta, MI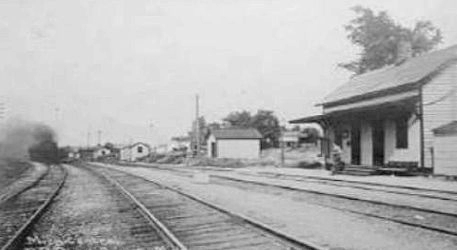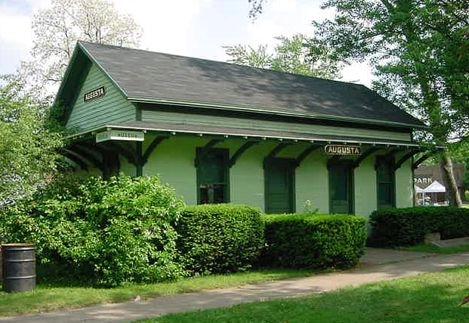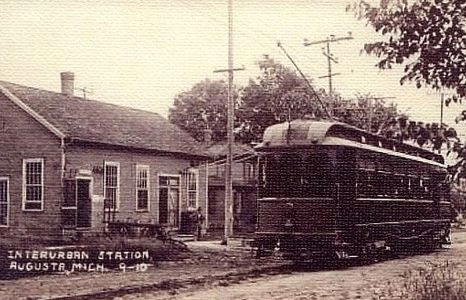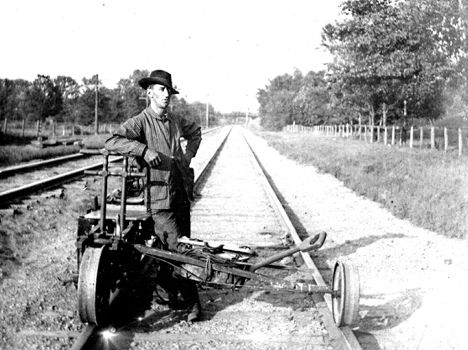 Augusta was settled about 1832 in Kalamazoo County. It became a village in 1869.
The town was 14 miles east of Kalamazoo on the Michigan Central main line. The town was also served by a interurban line and the nearby Detroit, Toledo & Milwaukee line.
Photo Info: Top, the MC depot at Augusta, MI. 2nd photo, a 2003 photo of the depot which has been restored. This depot was built in 1880. 3rd photo, the interurban station and car at Augusta. [all, Alan Loftis collection]. 4th photo, a man with a velocipede near Augusta in 1910. [Mark Worrall collection]
---
Notes
Augusta village was the home of Knappen Milling company, which was served by several spurs off the MC main line, west of the Kalamazoo River. [ZTS]
The Michigan Central established a large locomotive coaling tower here straddling the main line. It still exists in 2014 but has not been used for 55 years.
---
Time Line
1917, The MC had an agent-operator here around-the-clock. [TRT]
1920. On the Michigan Central, this is a passenger, freight and express agency joint with the American Railway Express Company. Interline tickets are issued. S. E. Wholihan is the agent. The telegraph call sign is "GS". [MCOAS]