Railroad: Cadillac & Lake City Railway Company
The Cadillac & Lake City was organized in 1964 to takeover property owned by the Pennsylvania Railroad. The line owned the former PRR Missaukee branch to Falmouth, and other related branches. Abandonment of these lines began in 1972 with the Missaukee Jct. to Round Lake Jct. portion operated until 1984. [MRL] reports that the line was actually not operated after 1975.
---
Pennsylvania railroad → Cadillac & Lake City railroad → Abandoned
Acquired: from Penndel (former Pennsylvania RR/GR&I in 1963
Operated for 18 years.
Abandoned: 1981 (service ended in 1975)
Reference: [MRRC]
---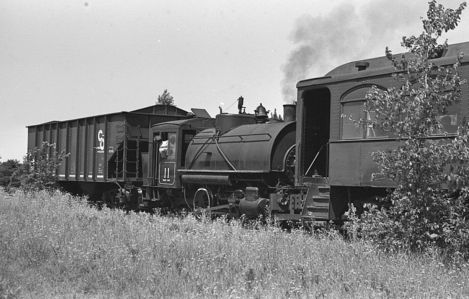 Photo Info: C&LS No. 1 switches near Falmouth in 1967. [Doug Leffler photo]
---
Notes
From Missaukee Junction to Lake City and Falmouth. Corporation continued railroad ownership outside of Michigan. [MRRC]
---
Time Line