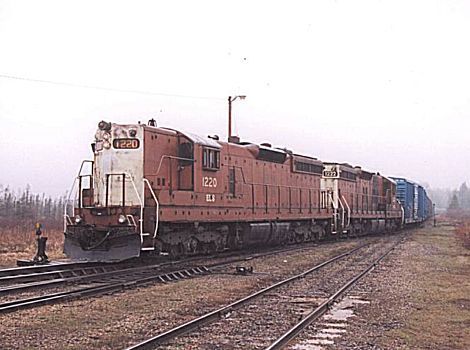 Escanaba & Lake Superior Railroad
The Escanaba & Lake Superior Railroad (E&LS) operates in the Upper Peninsula of Michigan as well as in the State of Wisconsin. The original EL&S line from Wells (near Gladstone) northwest to Channing is not currently used for through trains. The E&LS does operate over trackage rights from Wells via Hermansville to Pembine, WI. From there, the railroad operates south from Pembine to Green Bay, north from Pembine to Republic via Channing, west from Channing to Maas via Sidnaw. East from Sidnaw to Nestoria, and east from Crivitz, WI to Marinette, WI. The railroad also had trackage rights on the CN from Nestoria to the end of track near Baraga but the status of these rights are unknown.
The E&LS has a major business line storing and refurbishing freight cars. They use a former C&NW car shop at Escanaba for car repairs and refurbs. Many of their lines are used to store railroad cars for leasing companies and other car owners. Two examples are the old E&LS main line east of Channing, and the former DSS&A line east from Sidnaw. Both contain miles of stored railroad cars.
The E&LS is also known for its vintage locomotives and railroad facilities. The line used and still owns Baldwin diesel locomotives and it has vintage stations in Iron Mountain, Channing and other locations. It has a roundhouse in Wells.
Website: Escanaba & Lake Superior Railroad
Photo: E&LS 1220 enters the yard on the north side of Channing, Michigan. 2002 [Dan Meinhard photo]