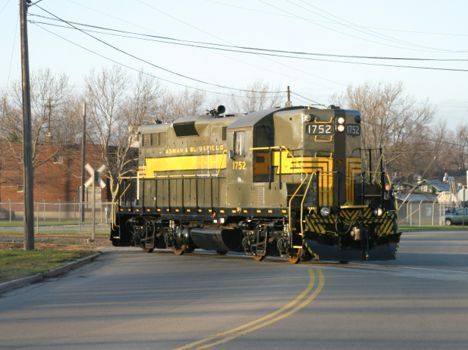 Adrian & Blissfield group
The Adrian & Blissfield is a shortline railroad which operates in Lenawee County from Riga Jct. to Adrian. This shortline is also closely affiliated with the Detroit Connecting Railroad on the near east side of Detroit, the Lapeer Industrial Railroad in Lapeer, the Charlotte Southern Railroad in Charlotte, and the Jackson and Lansing Railroad which runs from Jackson yard north to the state capital.
The A&B serves several industries but is noted for its grain elevator traffic and ethynol related products. The Detroit Connecting has heavy industrial customers south of Milwaukee Jct. The Lapeer Industrial serves local industry. Both the Charlotte Southern and the A&B operate dinner trains. The Jackson and Lansing (known as the JAIL line) serves a steel facility in Holt, as well as about a dozen other industries along its line and in the Lansing terminal area.
Website: Adrian & Blissfield
Photo: Adrian & Blossfield 1752 is westbound at Adrian, Michigan. 2004 [Dale Berry photo]
---
News Feed from Google - Adrian & Blissfield