Mineral Range Railroad (new)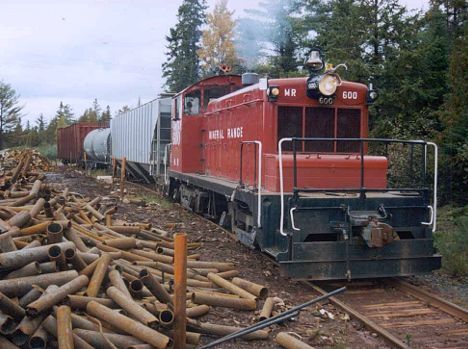 The Mineral Range Railroad was created in 2013 to operate former railroad operations in Ishpeming between Winthrop Junction and Pluto (National City). The primary customer was the Pepin-Ireco Dyno Nobel blasting agent distributing facility at Pluto. This line interchanges with the CN at Euclid Yard in Ishpeming.
When the Wisconsin Central put their former DSS&A line up for abandonment, the Mineral Range purchased a portion from Negaunee west to Euclid Yard, and then the line from Landing Junction to Humboldt Junction. When the Rio Tinto company opened a nickel mine north of here and purchased the former Humboldt processing plant, the Mineral Range agreed to provide shipping of gondolas of refined ore from the plant to an interchange with the CN in Ishpeming.
The Mineral Range operates their road in two sections. The line to Pluto operates with a EMD SW1 switch engine and caboose used as a pushing platform. The line from Ishpeming is operated with former GP9 locomotives. The railroad also built an indoor engine facility on the west side of Ishpeming, south the Euclid Yard.
Photo Info: Mineral Range 600 pulls a short train near Pluto in 2003. [Mark Andersen photo]
Source: [Trains Magazine, June, 2022]