Railroad Men (and Women): James F. Joy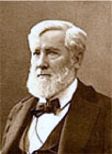 James F. Joy was a railroad magnate from Detroit. He was born in 1810 and doied in 1896. Joy was a lawyer and was general counsel for the Michigan Central railroad, which took over the "Central" line from the state of Michigan in 1846. He continued in this and other rolls with the MC, including the:
Chicago, Burlington & Quincy
Chicago and Michigan Lake Shore railroad
Detroit, Hillsdale & Indiana railroad
Detroit Lansing and Lake Michigan railroad
Detroit Union Railway depot and Staton Company
Wabash, St. Louis & Pacific railroad.
After being outsted by Vanderbilt interests, Joy worked with Gould interests to bring the Wabash into Detroit from St. Louis.