Interlocking: Kalamazoo, MI - BO Tower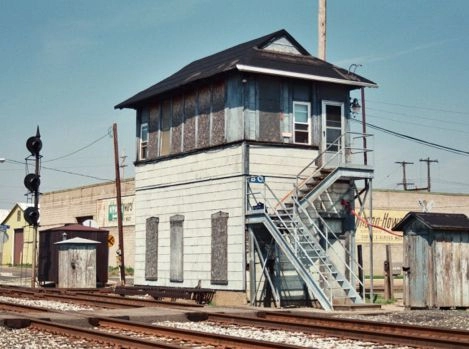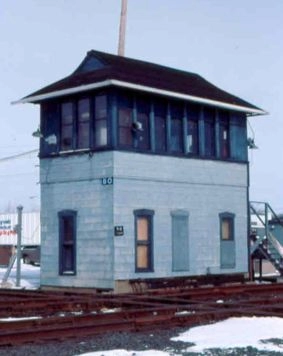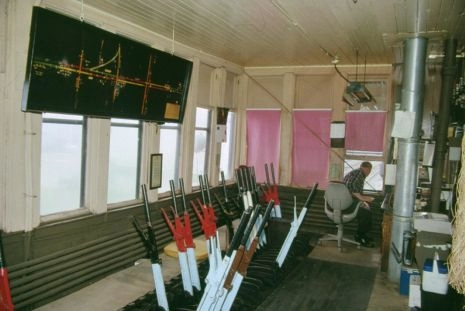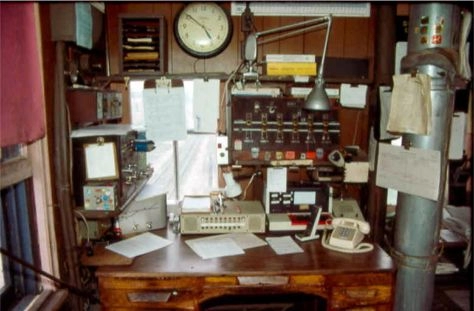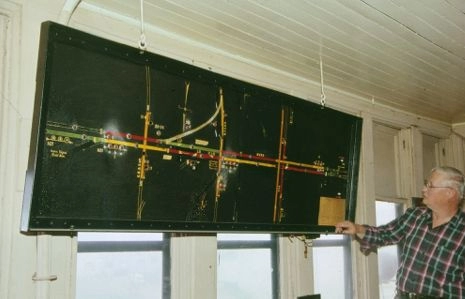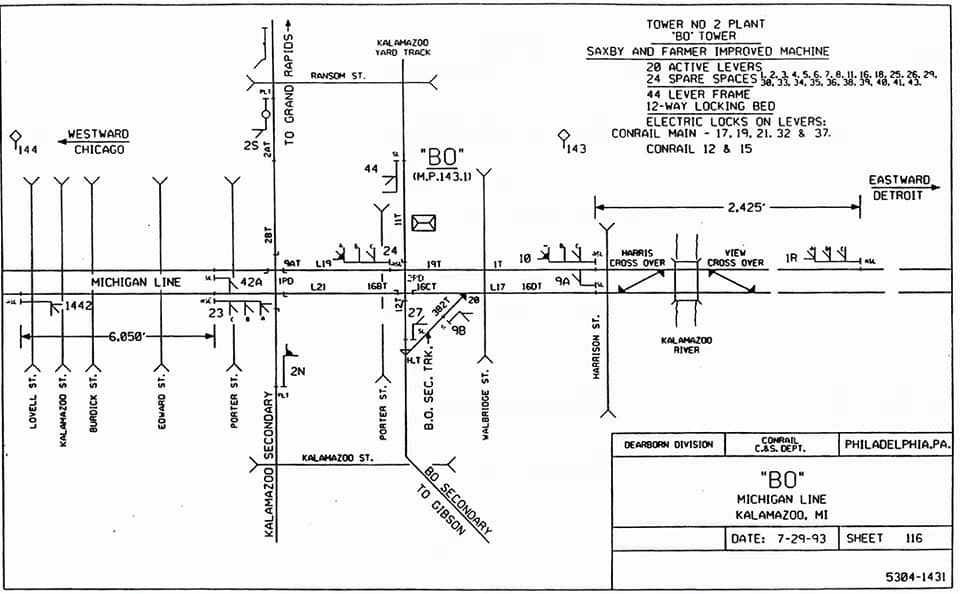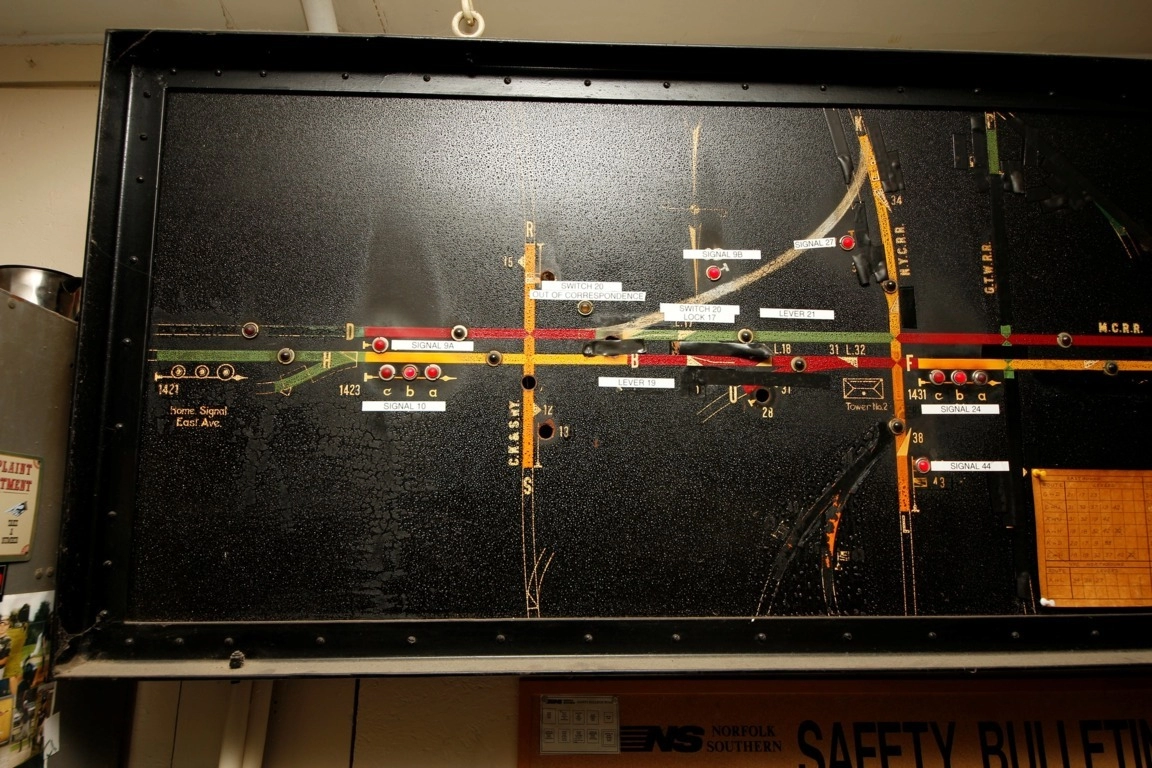 BO Tower controlled the crossing of the east-west Michigan Central main line and the north-south branch from White Pigeon to Grand Rapids and was opened in 1914 [NYCHS-2022-Q3].
The tower was closed on October 24, 2016, after being open 102 years (opened on October 2, 1914). [MRF-11/16]
Photo Info: Top photo, a 2005 view of BO Tower in Kalamazoo. [Nathan Nietering photo]. 2nd photo, a photograph of BO Tower. [Charlie Whipp]. 3rd photo, the interior of BO interlocking, date unknown. 4th photo, a view of the operator's desk in 1990. [Charlie Whipp]. 5th photo, the "model board" at BO Tower in the 1990's. [Charlie Whipp]. 6th photo, the Conrail track diagram at BO and vicinity, in 1993. 7th photo, another view of the model board at BO Tower. The upward direction of this photo is south. [Mike Delaney collection]
---
Notes
About BO Tower:
Note posted by G. M. Meints on 1/17/2005: I spent many hours at Tower 1 as a kid and worked there several times as an adult. I believe it was called "Tower 1" by the Michigan Central because it was the first interlocking tower in Kalamazoo and was built some years before BO tower was built. By the way, BO Tower has never been called "Tower 2". Like "BO" Tower, Tower 1 was owned and maintained by the Michigan Central - 100%. Of course, the PRR had to reimburse a portion of the expense to the MC (later, NYC) but the MC did the work. The tower was manned solely by MC operators on all three shifts, 24 hours a day, seven days a weeks, year around. At Tower 1, if you were answering the PRR telephone line, you called yourself "MC tower". On the MC phone line, you answered "Pennsylvania Tower". But these were vernacular replies, not the formal name of the tower. There were five MC tracks in front (to the south) of Tower 1. From the south, they were: NYC Wye, MC eastbound main, MC westbound main, MC long middle, MC House (which diverged from the Long Middle directly in front of the tower).
BO Tower controlled Signal 1436 located on the eastward main track west of the Kalamazoo station. All eastbound trains were required to stop clear of West Michigan Avenue prior to proceeding. [EYTT-1947]
---
Time Line
1914. October 2. The tower opens.
1917. The MC had an operator at this tower around the clock. [TRT]
2018. October 25. The tower is closed.
2021. December 28. The tower is closed down.
---
Bibliography
The following sources are utilized in this website. [SOURCE-YEAR-MMDD-PG]:
[AAB| = All Aboard!, by Willis Dunbar, Eerdmans Publishing, Grand Rapids ©1969.
[AAN] = Alpena Argus newspaper.
[AARQJ] = American Association of Railroads Quiz Jr. pamphlet. © 1956
[AATHA] = Ann Arbor Railroad Technical and Historical Association newsletter "The Double A"
[AB] = Information provided at Michigan History Conference from Andrew Bailey, Port Huron, MI