Story: A Day at Lapeer Junction - in 1955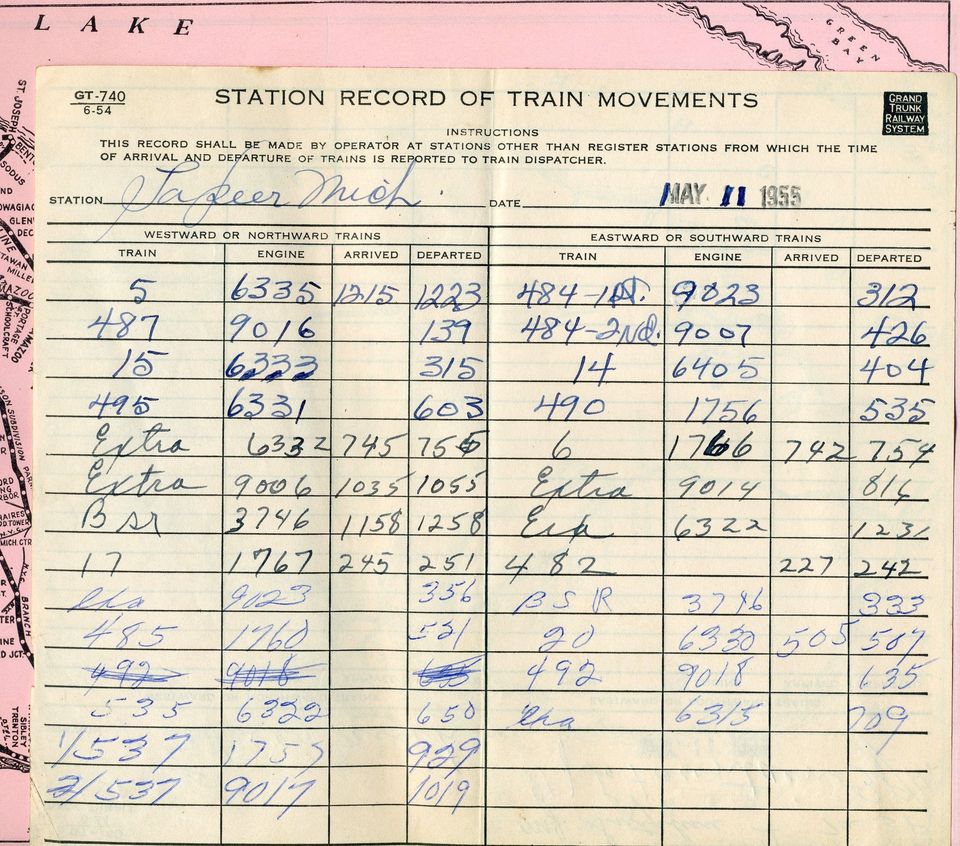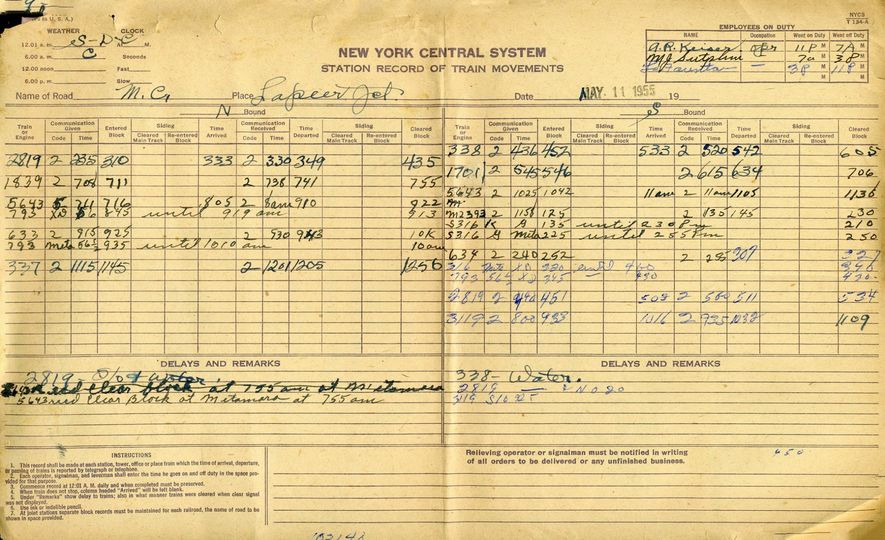 By Charlie Whipp (from a Facebook post August 28, 2021).
Here are the OS sheets from the tower at Lapeer, Michigan dated (Wednesday) May 11, 1955. I recently discovered an entire box of these that I'd rescued from the tower at Lapeer before it closed in 1979.
They are historical records of day to day activity on two of Michigan's most prominent railroad companies during the short period of time when dieselization was taking place across the country. Activity was frequent and varied and the tower operators were kept busy writing train orders and lining up the armstrong plant in the tower.
Lapeer Jct. was located at MP 290 (from Dearborn Station Chicago) of the GTW Flint Subdivision, Chicago Division and MP D58.4 of the New York Central's (former MCRR) Detroit to Mackinaw branch, Detroit Division.
Many of the GTW's U3b class Northern's (6300's) and my favorite streamlined Northern class U4b, 6405, showed up that day on #14. NYC steam included L-2c 2819 (ALCO built 1929) and L4a 3119 (Lima built 1943). The power isn't noted on NYC 337-338 but during this period it usually rated a Mohawk or Hudson.
I tried to pick an average day for train movements through the interlocking. Passenger trains operating daily on the GTW were numbers 14 and 15, the International Limited, number 5, the LaSalle, numbers 6 and 17, the Inter-City Limited and number 20, the Maple Leaf. On the NYC side, there were numbers 633 and 634, the daylight Beeliner (Budd RDC3) run between Detroit and Bay City, and numbers 337 and 338, "The Northerner" which was a overnight Pullman run from Detroit to Mackinaw City.
In addition, during the summer months, the NYC operated a weekend only (north on Friday, returning south to Detroit on Sunday) train to Mackinaw City called the Michigan Timberliner. This train carried a well stocked lounge car and was used largely by tourists headed to Mackinaw City and Mackinaw Island for weekend getaways.
Most of these passenger trains carried Railway Post Office (RPO) cars. The Northerner would sometimes carry up to six or seven mail and express storage cars to and from northern Michigan.
Through freights on the former Michigan Central Bay City Branch were MC/SD-4, TB-10 (Stanley Yard to Bay City), BD-2 (Bay City to Windsor), and DB-3 Bay City-Detroit).
Hopefully, you will enjoy reading through this typical day's activity at this small town junction of two important railroads in the mid 1950s.
Photo Info/Credit: Top, the GTW Station Record of Train Movements from May 11, 1955. Bottom, the NYC Station Record of Train Movements from the same day. [Charlie Whipp collection.]