Story: Empire State Express "999" Visits Jackson, Michigan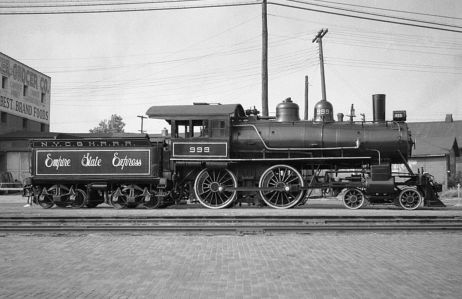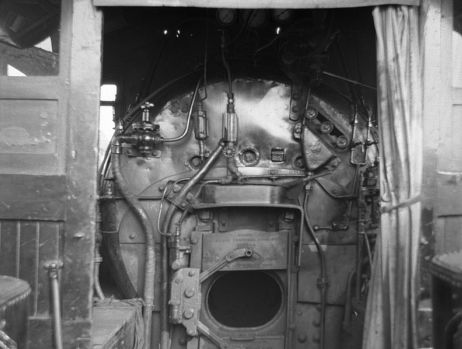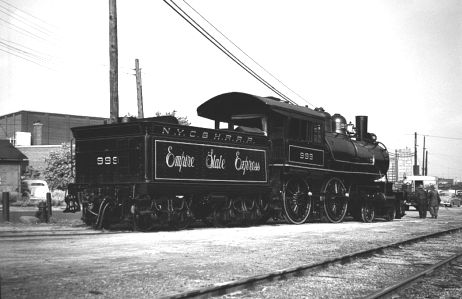 In the early 1950's, the New York Central Railroads brought their famous 999 locomotive for a visit to Jackson, Michigan. Jackson was a major locomotive service facility for the NYC and it's predecessor, the Michigan Central. In fact, the Jackson shops actually built locomotives in the mid-1800's. Because Jackson was such a railroad town, there was a great deal of interest in the 999 by railroad employees, their families and people in general
According to Richard Leonard's New York Central Collections web site, the 999 was built by the New York Central & Hudson River's West Albany shops in 1893, lettered for the Empire State Express, NYC&HR's crack passenger train at the time. The locomotive had 86" drivers which made it very fast compared with other 4-4-0 locomotives which were fairly standard at the time.
On May 9, 1893, the locomotive headed up a train between Rochester, New York and Buffalo, New York, set a new land-wheeled speed record of 100 m.p.h. which was national news at the time. A few days later, the locomotive reached a speed record of 112.5 m.p.h.
Click here for more information about the 999 on Richard Leonard's NYC Collections Web Site.
Photo Info/Credits: Top and 2nd photos, The "999" is parked along Liberty Avenue, where the NYC displayed a number of exhibitions for the public in Jackson. Below, the outside of the boiler of the "999". [Doug Leffler Collection]. 3rd and 4th photos, Above, the fireman side of the boiler of the "999". The locomotive required a lot of shoveled coal to make 112 miles per hours. Below, another shot of the "999" at Jackson. [Doug Leffler Collection]