Story - Rebuilding a Burned-out Caboose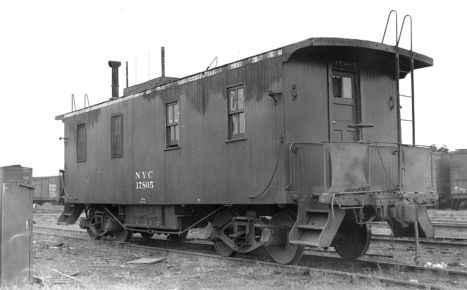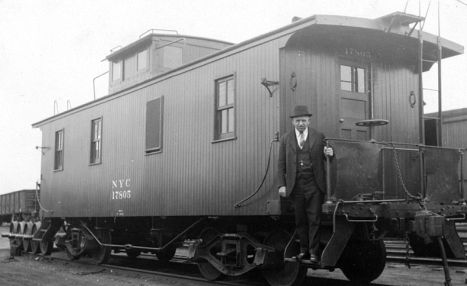 The New York Central car shops in Jackson were a major car repair facility for the NYC, and the Michigan Central before them. Many of these buildings still stand in Jackson today, but are used as warehouse space.
In 1937, NYC caboose 17805 suffered a major fire, which appears to have started in the cupola of the car. Perhaps the ash from the conductor or flagman's cigarette or cigar fell into the seat cushion, or a lantern flame ignited the wall or ceiling. Nonetheless, the cupola and a major portion of the car ignited and damaged the car. The caboose was brought from the scene of the fire to the Jackson shops, and the NYC decided to repair it.
The NYC shop crews removed all of the damaged wood, down to the frame of the car. The interior was rebuilt, new windows and doors were added, a new cupola was installed, and the entire car received a new exterior shell, paint and lettering.
Another fine job accomplished by the Jackson car shop crews. Superintendent Harry Hamilton stopped by to inspect the work and to have his photograph taken by Charles Milliken of Jackson.
March-April, 1937. All photos by Charles Milliken. [Doug Leffler Collection]
Photo Info/Credit: Top, New York Central caboose 17805 has been damaged by a fire in 1937. NYC calls these cabooses "way cars". 2nd photo, the car is being repaired with new sheathing, windows, doors and a cupola. the work is being performed outside. In front of the caboose there appears to be several rows of spare drawbars and knuckles for railcars. Third photo, the caboose has been remodeled and painted, ready for lettering. 4th photo, Superintendent Harry Hamilton poses on the newly numbered car, after inspecting the work of his men. 5th photo, YC 17805 is now ready for assignment in Jackson Yard.
All photos by Charles Milliken, Doug Leffler collection.