Story: Strap Rail of the Southern railroad
The Southern Railroad of Michigan (Southern) was started by the State of Michigan in 1837, and was operating between Monroe and Hillsdale, Michigan, in 1843. The Southern was probably the fourth railroad to start operation in the state. In later years, the Southern underwent many corporate changes to become part of the Lake Shore and Michigan Southern Railway. The road then became part of the New York Central System, and later part of Penn Central before most of the route was abandoned.
In practice with the prevailing technology of the late 1830's and early 1840's, a strap of iron two and one-half inches wide and five-eighths of an inch thick was spiked from the top down into the wooden rails of the track structure. This was done to prolong the life of the wooden rails.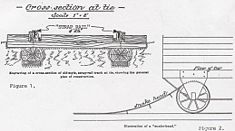 The practice of spiking the strap iron rail from the top down, however, created a very dangerous problem. As the wheels of the cars wore the rail down, it also wore down the tops of the spikes holding down the strap rail. At this point, the strap rail started breaking, usually in such a manner that at least one end would stick up in the air. Sometimes, as the next train came against this upended broken rail, it would ride up and over the wheel of the railcar, piercing the floor of the car. This was called a snakehead. (see photo)
It wasn't until 1852 that this strap rail was totally replaced on the Southern route with "T" rail, which eliminated the dangerous snakeheads. The "T" rail is still used today on our modern railways.
Editors Note: Strap rail can still be found today on the former right-of-way of the Southern railroad in Monroe, Lenawee and Hillsdale Counties. Some of it was simply discarded to the side of the track when the T-rail was installed. Almost all of that track is now abandoned and pulled up, with the exception of a stretch from Lenawee Jct. to the west side of Adrian. But, with a bit of perseverance, mosquito repellent, and cooperative farmers, you might be successful in finding a piece of 160 year old railroad history if you look closely!
Information provided from Railroad Historian Jim Harlow.