Photo Story: The Royal Scott Visits Battle Creek - 1933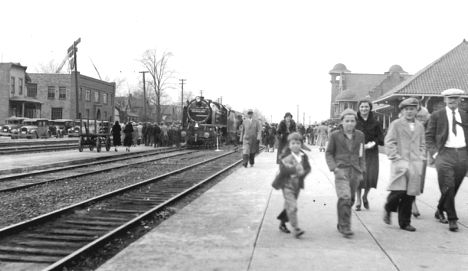 The Royal Scot was a famous passenger train operated by the London, Midland and Scottish Railway, and traced it's roots to 1862. The famous train ran between Glasgow, Scotland and London, England with a daily round trip. In the 1930's, the train made an international tour and was hosted by the Canadian National Railway. The train operated on the CN owned Grand Trunk Western during its tour and eventually covered 11,000 miles in North America, under its own power. These photos were taken on the November 13, 1933 visit to Battle Creek.
For further information on the Royal Scot:
Mike's Railway History in 1935
Wikipedia - Royal Scot class locomotive
---
Photo Info/Credit: Top and 2nd photo, the Royal Scot train with locomotive 6100 is on display at the Grand Trunk Western depot in Battle Creek. The train was powered by LMS 6100, which was actually renumbered from 6152 for the North American tour. November 13, 1933 [Charles Milliken photos, Doug Leffler collection]. 3rd photo, another Milliken photo of the train, with residents lined up for a tour. The tower in the background is Hall Street Tower, which was at the west end of the GTW depot. In earlier days, Hall Street was the crossing of a street railway line with the GTW in Battle Creek, as well a the beginning of the NYC Goshen Branch which went south to Findley and Goshen.