Story: Funding the Bay City and Alpena Railroad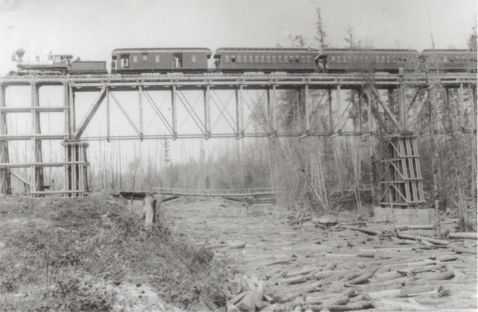 Detroit industrialist Russel Alger owned significant logging operations in Alcona County and operated logging railroads in that vicinity. One of his lines in the Harrisville area had been moved north to Black River and at some point, Alger decided to become involved with efforts to combine and extend railroad operations which were centered in Tawas with his logging railroads in Alcona. He was a part of an effort called the Bay City & Alpena Railroad Company which had a goal of connecting with the Michigan Central and points south. This would allow a rail connection with the rest of the country.
Alger and his group hoped that the Michigan Central would fund construction of the railroad and he enlisted H. B. Ledyard, President of the Michigan Central and Ashley Pond who was MC's General Counsel to help. They also received commitments from residents and governments along the Huron shore route for land and construction. The Detroit Free Press reported that:
Alger returned on Tuesday night from a trip to New York in the interest of this company, and yesterday was visited by a representative of The Free Press, who, after calling the attention of the General to the article in reference to the proposed line of the road and receiving an assurance of its accuracy, asked the question: "Can you give us anything of interest as of the result of your journey?"
Gen. Alger answered as follows: "My journey has resulted in a decided disappointment. Several weeks ago, you will remember, Mr. Ledyard, Mr. Pond [of the Michigan Central railroad], and I went to New York to consult with Mr. Vanderbilt about this road, and after submitting to him plats, statements of population, resources and other matters, Mr. Vanderbilt said that under certain conditions as to bonus, right of way, etc., the road would probably be built,
I asked him: 'What shall I telegraph to them?' and he answered: 'You may telegraph them that if they fulfill their agreements they will have the road.' Mr. Vanderbilt then directed Mr. Ledyard, who was present, to have an engineer prepare estimates, and Mr. Ellis was selected for the purpose. He performed his duty and last Friday was appointed as the date when a decision would be made which decision I had no doubt would be to build the road.'"On Friday the Executive Committee [of the Vanderbilt interests] decided not to build.
"A meeting in favor of the railroad is to be held in Oscoda to-night and I have sent to that meeting the following telegram:"
But Vanderbilt and his men had second thoughts. The Free Press article continued:
Detroit, March 30, 1881. Geo. L. Maltz, Oscoda, Mich.: Returned from New York last evening. Saw Vanderbilt. He talked exactly opposite from what he did when I wired you before, and says the Michigan Central will not build road this year. We may try other methods, but will of course do nothing unless the full bonus is subscribed by perfectly responsible parties, and full right of way is given over the whole line including lake route through Oscoda and ample terminal facilities at Alpena. (Signed) R. A. Alger.
Reporter-"Will this be a death blow to the road?". Gen. Alger - "No, sir. We have been greatly disappointed, but we will try to accomplish it, and much depends upon the meeting to-night. We mean to have a road from Bay City to the Straits along the shore. Such a line will avoid the deep snows and will be entirely free from heavy grades."
The interview was extended to somewhat greater length Gen. Alger going a little into detail on some points not necessary to dwell upon here. He, however, on being pressed for an explanation of the unexpected change of front by Mr. Vanderbilt, said that he had had a long conversation with Mr. Vanderbilt on that very subject and that the reason was the heavy snows of the past winter had cut down receipts and increased disbursements to such an extent that he did not wish to load down the Michigan Central with any heavy expenses at present.
It is certainly to be hoped, for the sake of Detroit, if not for the lake shore people that Mr. Vanderbilt, as soon as spring is fairly opened, will see good reason to reverse his decision, for no one doubts that the road will be built, and if it is not taken in hand by the Michigan Central, some other corporation will take hold of it - perhaps the Flint & Pere Marquette, in which case Toledo and not Detroit would be the real terminus.
The railroad was ultimately built north to Alpena (and to Alger forest interests in Presque Isle and Montmorency counties) and connected on the south with the Michigan Central at a junction called "Alger" which was in northwest Arenac County just north of Standish in 1883. This turned out to be an undesirable connection with the Michigan Central as they apparently held the successor Detroit, Bay City & Alpena (DBC&A) hostage in rate setting and service. Service to Alger also required use of a high and lengthy bridge wooden trestle bridge over the Rifle River, which must have been expensive to maintain.
Once the line was reorganized as the Detroit & Mackinac in 1896 with funded by Boston interests, a new main line south from Emery Junction (near National City) was constructed along the Huron lake shore to North Bay City and a connection with the Pere Marquette, the Grand Trunk Western and the MC. The connection at Alger was severed and the D&M line truncated at Prescott.
[Excerpts of this article were taken from the March 31, 1881 edition of the Detroit Free Press] Other information from [MRL].
Photo Info/Credit: This is an early photo of a DBC&A train on the Rifle River bridge near Alger, Michigan.