Article: The Last GTW Train To Bad Axe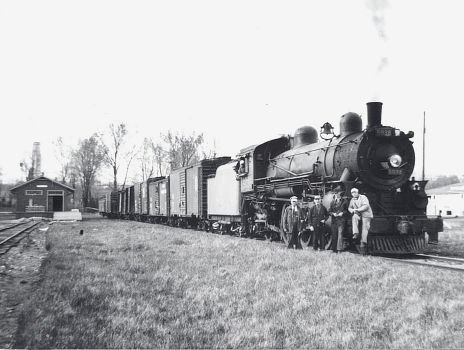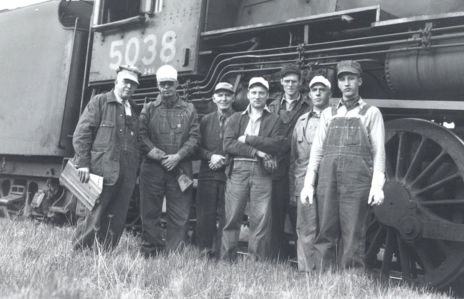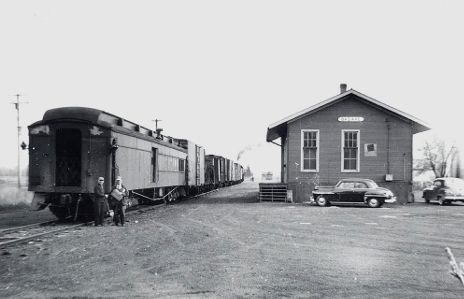 Photo Info/Credit: The last GTW train on the Bad Axe Branch, which stopped for photographs before leaving Bad Axe on April 30, 1951. [Bill Miller photos, TJ Gaffney collection]
The Grand Trunk Western built a branch line from Cass City to Bad Axe which opened in September, 1913. The line was never more than a sleepy branch line, with mixed train service through much of its short 48 year life.
Last GTW train into Bad Axe was operated on April 30, 1951 when the photographs on the left were taken memorializing the final run. The train no doubt picked up stray freight cars along the way, and the crew has stopped for photos at the GTW's Bad Axe depot.
The train had locomotive 5038 for steam power, and about 10 cars including a combine car on the rear for passengers.
It is noted that there is no crowd of people on hand to give the train a send off. Bad Axe was served with regular service by the Pere Marquette from Saginaw and Port Huron, making the line expendable in the minds of the folks in town.
According to T. J. Gaffney, the Curator of Collections at the Port Huron Museum, the middle photo from left to right were George Morgan (Conductor), George Wix, the Engineer, Jack Muntz (another Engineer who had retired by 1951), Bill Miller, George Boyd and Al Hasse (Brakemen) and George Walasky (the Fireman).
The photographs were probably taken by Bill Miller. [T. J. Gaffney Collection]