Article: Helping Columbiaville Celebrate The Bi-Centennial
By Dale Berry. Photos and assistance by Charlie Whipp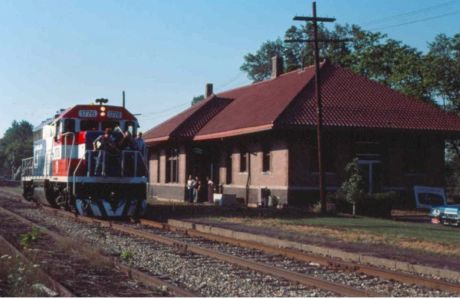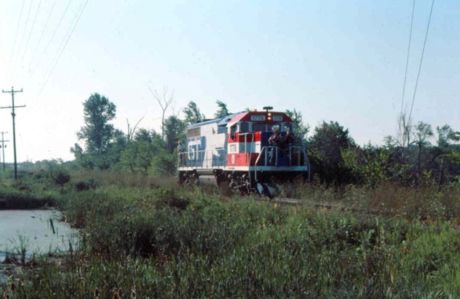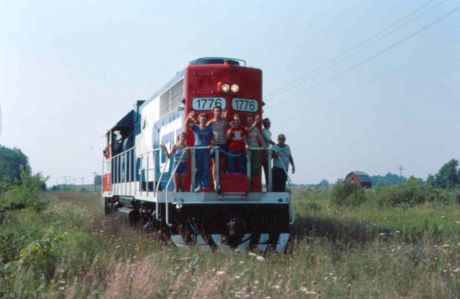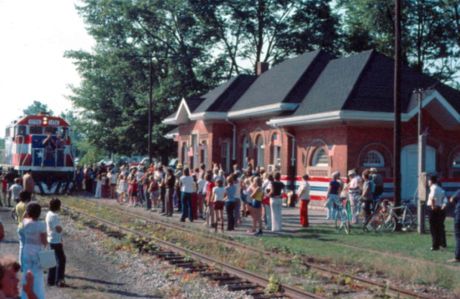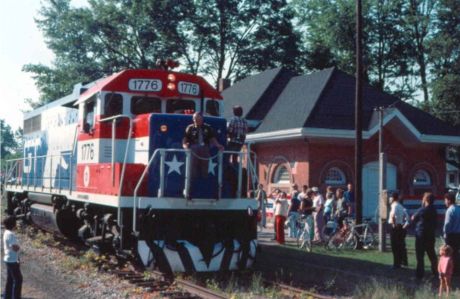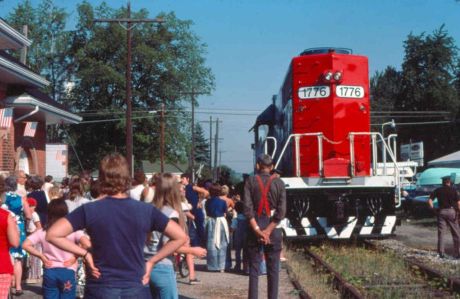 Photo Info/Credit: Top, passing the MC depot at Laper enroute to Columbiaville. 2nd photo, approaching Davis Lake Road at mp D-61.75, 3rd photo, passing Carpenter Road with passengers waiving. Note the grass around the rail bed. 4th photo, approaching the Columbiaville depot at mp D-69 with Sheriff Ken Parks taking a photo from the point of the locomotive. 5th and 6th photos, the crowd enjoys the last engine to visit tiny columbiaville. The sheriff oversees things from the walkway of the locomotive. All photos, Charlie Whipp]
In August, 1976, Columbiaville in Lapeer County was preparing to celebrate the nation's Bi-Centennial of 200 years. This was also a significant time period because Columbiaville would celebrate 100 years as an incorporated Village in 1979. According to the book Michigan Named Places (Romig, Wayne State University Press), Columbiaville actually saw its first resident in 1847 when a sawmill was built there. The owner of the mill was from Columbia County, New York and named the town Columbiaville, which built up around the sawmill and other business properties and homes.
The town first received rail service in 1872, when the Detroit and Bay City built north to here from Detroit. The line quickly became part of the Michigan Central Railroad, and after the turn of the century, the town sported a modern, attractive brick depot for the purpose of boarding passengers, receiving and sending freight, and handling telegrams and other messages for its residents and businesses.
One hundred years later, as Columbiaville got ready to celebrate the nation's Bi-Centennial, they had all of the trappings of a small Michigan town. Their downtown was spruced up, and their parks were readied. The center focus of town over the years had been the train depot, and Columbiaville had one of those too - an attractive brick station which was in good repair - unlike many other small town depots which were dilapidated and in disrepair.
The only problem? Their railroad had been abandoned in March of that year by Penn Central when they discontinued service from Utica north to Millington. Fortunately, the track had yet to be torn out and so community leaders in Columbiaville tried to make the most of it.
With the help of the state, the cooperation of Penn Central officials, and a tremendous effort made by the Grand Trunk Western Railroad (which crossed and connected with the abandoned Penn Central in Lapeer), Columbiaville got its train for their celebration - albeit a Grand Trunk locomotive instead of the New York Central locomotives they had watched for decades go through their town.
Like a number of other railroads, the Grand Trunk Western had painted up one of their locomotives in bi-centennial colors and numbered the locomotive 1776. On August 20th, the locomotive was dispatched to Lapeer on the GTW and it began its slow trip on the grassy, abandoned Penn Central line north to Columbiaville.
This former Michigan Central / New York Central / Penn Central track had been out-of-operation for months and was fully covered in weeds at many locations. It hadn't been maintained well for the last ten years and was well-worn by coal trains that had used it in recent years on their way to Bay City. Grade crossings were inactive making the trip even more dangerous. Residents were simply not accustomed to encountering trains in Columbiaville and sped across highway crossings without watching.
GTW orders for the trip were sent to a number of people, including the operator at Lapeer and foreman in Battle Creek and Port Huron:
"Extra 1776 west is called 0600 hrs August 20th Tappan. To enable Bi-Centennial locomotive unit 1776, to go display at 1000 hrs Friday Aug 20th until 1600 hours Saturday Aug 21st at the Columbiaville, Michigan bi-centennial. Do the following:

"Port Huron.... arrange to order a Port Huron engineer and Flint sub conductor pilot 0600 hrs Friday Aug 20th to handle light engine 1776 from Port Huron to Columbiaville via Lapeer, unit 1776 must be headed east leaving Port Huron. On arrival at Lapeer, light eng 1776 will be met by Road Foreman C J Tindol who will be in charge of the movement on former trackage from Lapeer to Columbiaville--- a distance of 6.7 miles.
"The Penn Central has given Grand Trunk exclusive use of the track between Lapeer and Columbiaville Friday Aug 20th and Sat August 21st and there will not be any conflicting movements.
"Light engine 1776 must not exceed fifteen (15) miles per hour between Lapeer and Columbiaville. Lapeer County Sheriffs Dept will provide protection at each public crossing at grade between Lapeer and Columbiaville on both dates, however extreme caution must be used at these public crossings at grade using whistle signals and engine bells frequently. Columbiaville fire department will provide fire protection on above on both dates.
"Trackage between Lapeer and Columbiaville to be patrolled by the supervisor of track on both dates to insure safe passage of light engine 1776.
"On arrival at Columbiaville on Friday Aug 205h unit 1776 to be parked at a convenient location as requested by the bi-centennial advisor and commission. His designated representative is Ronald E Stier, Village President.
"Loco engineer and condr pilot will tie up at Columbiaville and Port Huron to make arrangements for transportation of this crew back to Port Huron."
And by the looks of the photos, the locomotive made the trip safely and the people of Columbiaville had a grand time.
Congratulations to the GTW for going the extra mile to give the people of Columbiaville one last view of the rail transportation network which had made the town a place to live and do business over the last hundred years.