Article: Switching the Chief Wawatam in the 1970's (Photo Story)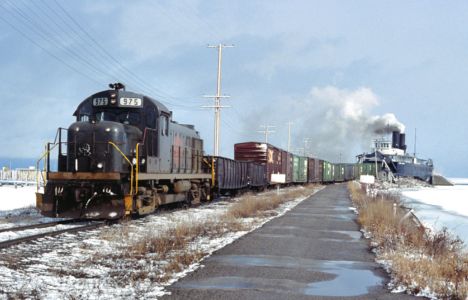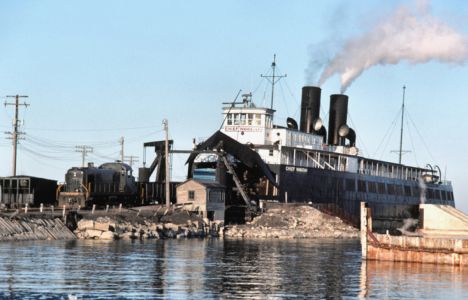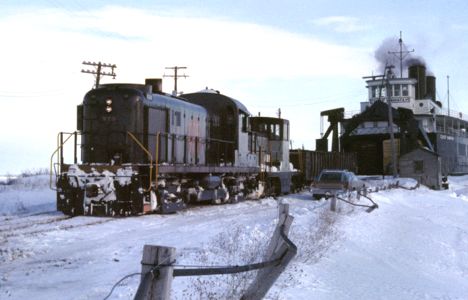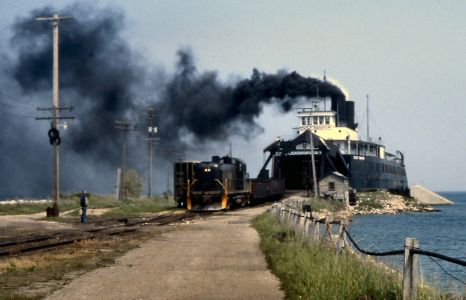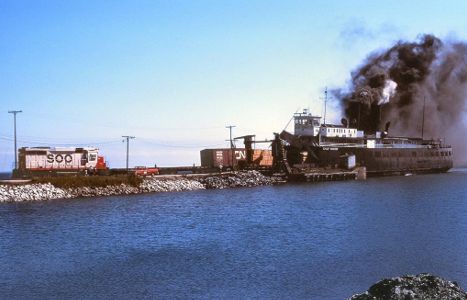 During its final years shuttling freight cars across the Straits of Mackinac, the Detroit & Mackinac railroad took over the job of operating the 100 year old car ferry from the New York Central system. This is a series of photos by Neil Plagens and Rob Kitchen of the operation in 1978-1981.
Photo Info/Credit: Top, D&M 975 switches a long line of boxcars onto the Chief Wawatam at Mackinaw City on February 24, 1981. The two condola cars are called "idler" cars. They are always present next to the heavy engine and allow a string of cars to be placed into the ship without requiring the heavy locomotive to move onto the dock or ship for safety reasons. 2nd photo, another shot of the 975 on April 25, 1978]. 3rd photo, D&M 975 with the D&M GE #10 looked up. We are not sure why No. 10 is there as it wasn't equipped for MU operation. January 31, 1978 [photos 1-3, Neil Plagens]. 4th photo, D&M 977, another Alco product, switches the Chief in June, 1979. 5th photo, on the opposite side of the straits, the Soo Line handles the chore of loading and unloading the Chief, using an EMD GP-30. Flat cars are used here as idlers. [Last two photos by Rob Kitchen].