Article: How Harrisville Got a Stone Depot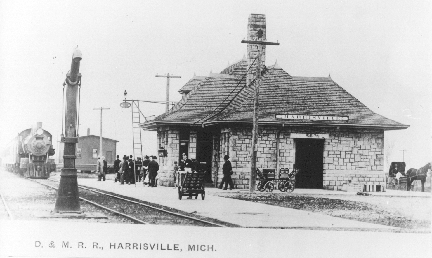 Reprint from the Alpena Argus, September 24, 1902
Mr. Colwell, of Harrisville, was in town recently. He is a well known citizen of that village. The Alger vs. Ferry senatorship happened to be under discussion, and Mr. Colwell's remarks seemed to indicate that he was not an admirer of General Alger. From the senatorship the discussion branched off to the D. & M. railroad, and the shore as a place of summer resort, and some one present spoke of the stone depot at Harrisville.
"Did you ever hear how we came to get a stone depot at our pretty town?", said Mr. Colwell.
Those present said they had not been informed, and Mr. Colwell said:
"An official of the railroad was in Harrisville, making arrangements for the erection of a depot. I asked him:
"What kind of a depot does the company intend to build?"
"A wooden one," was the reply.
"Why not build a stone one?, I inquired".
"Cost too much, the head officials would not agree to it," responded the railroad official.
"How would it be if Harrisville people would donate the stone required?"
"I cannot answer the question," said the official, but I will lay the matter before Mr. Luce, the superintendent."
"I did not hear any more about the depot for some time," said Mr. Colwell, "and then, one day, Mr. Luce happened to be in Harrisville on railroad matters. He said to me: "How about the stone for the depot, Colwell?"
I told him that I had not heard anything from the company since I made the proposal, and supposed it had been decided to build a wooden one. Mr. Luce said that if the Harrisville people were still willing to donate the stone that the railway company would build a stone depot. I answered Mr. Luce by saying that if he would send an official to designate the site for the depot and would tell where we should place the stone, and designate the size of the pile, that I would guarantee that the stone would be delivered. Mr. Luce accepted the offer and soon after sent up a man to fix the site and figure out the size of the stone pile we should erect. Well, the official came up and told us what size pile we should erect, and where to place it. We then set to work and drew stone enough to complete our contract. The pile was about 50 feet long and several feet high and wide, but it proved only sufficient to make the foundations. However, it let us out all right, as we had done all that was asked of us. The railroad company never kicked when it was found how the stone had panned out and it secured the rest of the stone for the upper part from the Alpena Cement Co. and I believe it was donated by that company. And that is how Harrisville came to have the only stone depot along the line of the D.&M. railroad".