Article: Toledo Railfan's Association Trip to Deshler, Ohio (Photo Story)

The "writing was on the wall" for steam locomotive power in the early 1950's and the Toledo Railfans Association arranged for one of probably many excursion trips on the Baltimore & Ohio Railroad on Sunday, October 12, 1952. The "Old Millstream Special" was ordered to take railfans from Toledo to Deshler, Ohio and return the same day. The train departed Central Union Terminal in Toledo at 10:00 a.m. These photographs were taken by Michigan railfan Cecil Hommerding, and are from the collection of Doug Leffler.
The train was powered by B&O 5217.
Somewhere between Toledo and Findley, the passenger special pulls in the siding to meet B&O 5572.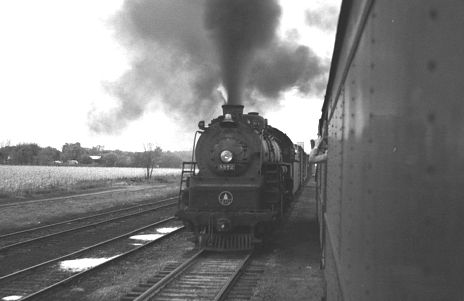 The train stops for a photo run by. For those of you who have never taken a steam excursion trip, a photo run by is a special event. The train stops at an out-of-the-way place and most passengers disembark, setting up their cameras. The train then backs up a mile or two, accelerates rapidly with the smoke chugging from the stack, and passes the photographers, much to their delight. After stopping a mile or so down the track, the train carefully backs up to pick up its passengers and then resumes the journey.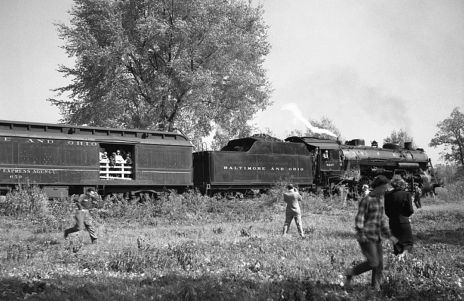 At Deshler, and train stops at the depot and crossing. The train will be turned at this location for the trip back to Toledo. The passenger special meets B&O Alco diesel 829 at Deshler.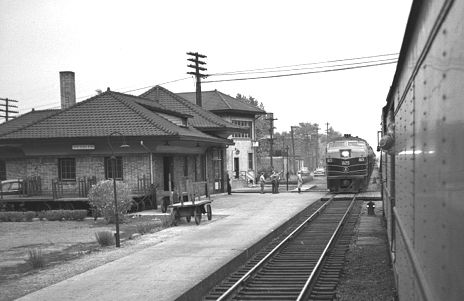 In Deshler, the crew takes a break while the railfans check out the facilities and perhaps a bit of the town. The engineer of the 5217 appears at ease, however the man in the suit is "on edge". He is probably a Trainmaster who is responsible for the safety of the passengers and keeping the railroad running smoothly eve though the passenger special is complicating the schedule.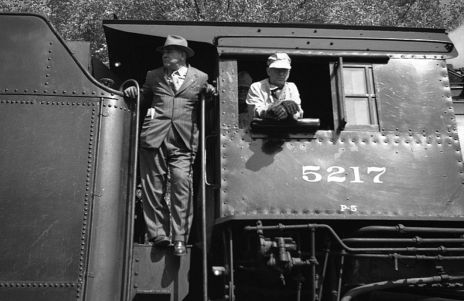 Again at Deshler, the locomotive takes on water for the trip back to Toledo. The tender appears to have sufficient coal to make the trip back. Inquiring railfans supervise the water filling operation from the sidelines.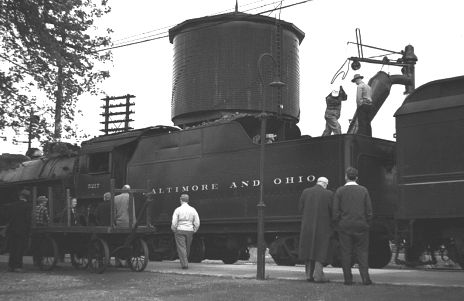 The train makes a brief stop at McComb, Ohio.