Station: Chassell, MI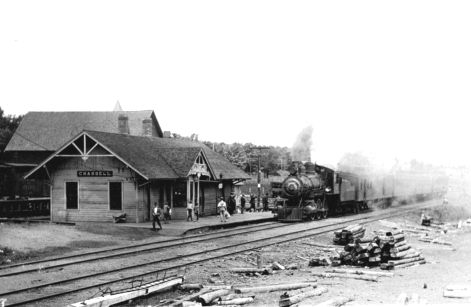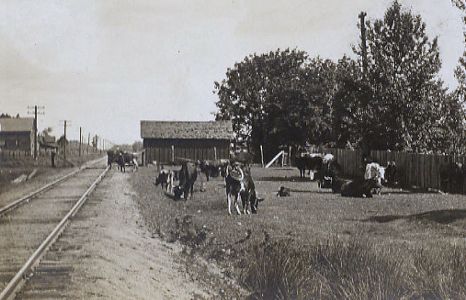 Chassell was founded in 1887 by a lumber company. In 1888 a station stop was established on the Duluth, South Shore & Atlantic railroad.
Chassell is at milepost 40.6 of the DSS&A Houghton Branch at section 32 of T53N-R33W. [DSSM}
Photo Info/Credit: Top, a view of the Duluth, South Shore & Atlantic depot and passenger train at Chassell. [Mark Worrall collection], 2nd photo, possibly a view of Chassell on the DSS&A. (Note from Robert Oom: "I doubt that the 2nd photo is really at Chassell. Chassell had a rather substantial depot with a peaked roof that ran parallel to the tracks. Judging by the lay of the land, I'm thinking the photo is actually in Klingville or Arnheim which are both south of Chassell and neither of which had a true depot."
---
Timeline:
1896. A Swede millwright named Nells Sundean from Utica, N.Y. employed by the Sturgeon River Lumber Co. at Chassel, while watching the sawyers skid a log upon a log-carriage, fell in a faint across the log. Before it could be stopped he was carried to the saw and his body was cut in two. [TTN-1896-1125]
1913. DSS&A Sturgeon River Bridge. The Wisconsin Bridge and Iron Works constructed a bridge here in 1913 to cross the Sturgeon River. It consisted of three steel through-plate girder spans resting on steel piers and concrete abutments. The two approach spans are 40' long while the center span is 65' in length. [UPM]
1918. The DSS&A had an operator/agent here and an assistant during the day and afternoon shifts. [TRT]